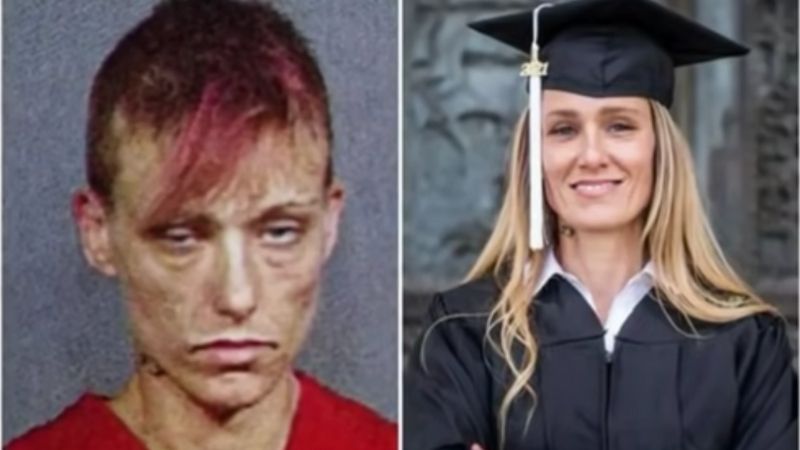 Redemption and life-change journeys are deeply powerful and serve to inspire us all. A woman named Ginny Burton has one such story.
Burton's story of transformation from drug addict to success story was recently captured by Eric Johnson of KOMO-TV, and is perfectly illustrated by two juxtaposed images of her life mid-addiction versus her post-addictive existence.
SUBSCRIBE: WANT POWERFUL ENTERTAINMENT & NEWS STORIES DELIVERED TO YOUR INBOX? SIGN UP!
In Johnson's touching story, the journalist revealed that Burton was born in 1972 to a drug-addicted mother and a father who ended up in prison by the time Burton she was just 4-years-old. Tragically, drugs entered her life when she was just a child; she found herself using meth by the tender age of 12, with crack entering the scene when she was 14.

What followed was a tattered life filled with suicide attempts, heroin addiction and tragedy.
As Johnson aptly noted: "She never had a chance." Her life was dominated by prison-time and chasing addiction — and her overcomer story is a harrowing one.
"I am that person. I have 17 felony convictions. I am the person you used to clutch your bag when I walked by you," she told Johnson. "I am the person that would randomly attack somebody in public. I was not a savory person. Everybody was a victim, and everybody was prey."
It was a cycle was went on and on...until it didn't. After yet another arrest in 2012, Johnson's life finally changed. Desperate and ready for a different existence, Burton decided she needed to fix her life no matter what the cost.
Over time, she started doing social service work, getting an education and, before long, she received a scholarship to the University of Washington, where she studied political science.
READ ALSO: TERRY CREWS' WIFE ON HIS STUNNING TRANSFORMATION: 'HE LET GOD DO A WORK IN HIS LIFE'
Now, her eyes are set on getting a Master's degree, and she hopes to impact lives through her story.
"My story isn't an accident," she told Johnson. "I think it will be used for everybody else. Maybe I can be some kind of Pied Piper, to help people recover their own lives. That's what I care about."
Read her full story here. Want more inspirational news? Sign up for our Pure Flix Insider weekly email for more inspiring entertainment and news stories!
Featured Image Credit: KOMO-TV/YouTube
OTHER MUST-READ STORIES: