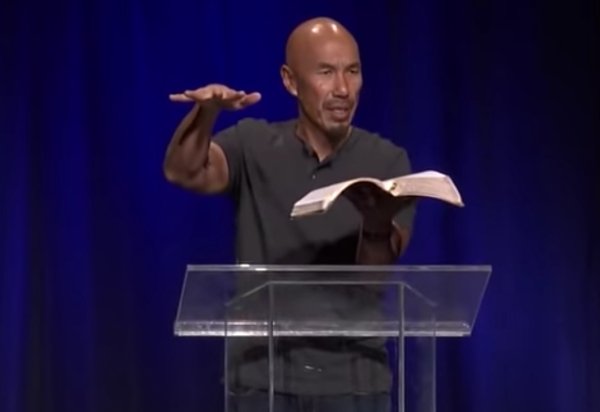 Author and pastor Francis Chan stunned the Christian world last week when he announced that he and his family will soon be leaving the U.S. to be missionaries in Asia.
Chan, the former megachurch pastor at Cornerstone Community Church in Simi Valley, California, plans to leave in February.
WANT HOPE? Watch Uplifting Movies and TV Shows Right Now on PureFlix.com
He announced his departure last Wednesday during a sermon at Azusa Pacific University in Azusa, California, and explained the impetus for the move, The Christian Post reported.
"A few months ago, we were in Myanmar and my wife [Lisa] and I and kids, we were just with a translator going from hut to hut in these slums, trying to explain to people who Jesus is," he said. "These people had never even heard of him. And the eagerness, the way they listened, seeing people get baptized — it was just like, 'Wow, what do we do on a normal day that even compares to this?'"
As the family journeyed home, Chan said he and his wife started talking about the future, and that it became clear that they would embark on a missional path.
Watch Chan reveal why he's leaving the U.S. to become a missionary:
But, as it turns out, that journey started long before that recent trip, as Chan posted a follow-up note on his Crazy Love Ministries website, revealing that he and Lisa actually felt called to move to Hong Kong nine years ago.
Chan said he felt God speak to him, though, revealing that he still had more work to do in the U.S. before departing.
"[God] made it clear that there were two things I had to do in the states before I could go anywhere else," he said. "He wanted me to display a different picture of Church and a different picture of marriage/family."
Over the past seven years, Chan has lived out this call, writing a book about marriage and another about the church. And he has spoken out and served as a positive example on both topics.
READ ALSO: The 9 Christian Values That Change Lives
During Chan's sermon last week, he described how he's been "fishing in the same pond" his entire life alongside "thousands of other fishermen." His point? There are a lot of people today preaching here in the U.S., and sometimes the "lines are getting tangled and everyone's fighting over stupid things."
But his recent trip to Myanmar showed him something different.
"What if I heard of a lake that's like a five-mile hike away, and no one's fishing it," he said. "And they're saying, 'Man, the fish are biting — just throw a hook in there and they'll go for it!' Man, I'll make that five-mile hike if I love fishing."
READ ALSO: 18 Christian Celebrities Who Are Changing Show Business
Chan explained in his website update that he was enamored two months ago as he recently went "hut to hut with a translator" in Southeast Asia and shared the gospel.
"The more I shared the gospel, the more alive I felt," he said. "It's a completely different experience sharing with those who have never heard versus sharing with those who have already chosen to reject Jesus over and over."
He said the experience left him realizing that he wants to do this sort of work for "the remainder" of his life. Read more here and here.
And if you're looking for more inspiration, consider joining PureFlix.com. With thousands of TV shows, movies, documentaries and original series, there's plenty of content to leave you uplifted. Sign up and get your free, 30-day trial today.