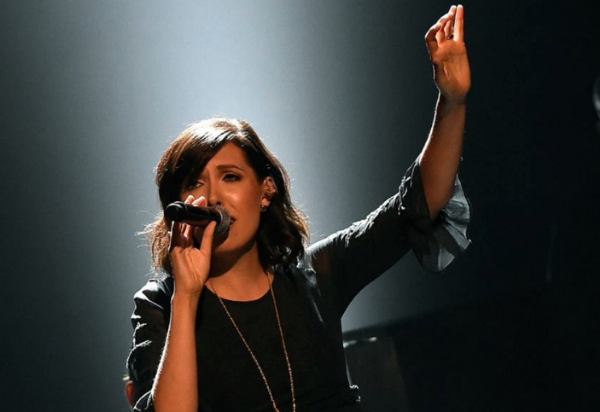 Christian singer Francesca Battistelli revealed in an Instagram post this week that she recently experienced a miraculous healing surrounding her current pregnancy.
Battistelli inspired thousands of fans by sharing a very personal story that started unfolding a few months ago when she was 10 weeks pregnant and started having excruciating abdominal pain.
LOOKING FOR HOPE? Watch Uplifting Movies and TV Shows Right Now on PureFlix.com
"I was concerned. I called my midwife who said to watch for a few things and report back," she wrote. "I then called my parents basically in tears from the pain in my lower abdomen."
Battistelli's pain didn't let up, and she headed to the emergency room to seek treatment. The pain subsided by the time she reached the hospital, but doctors revealed that a cyst on her right ovary had grown to the size of a small grapefruit or orange.
READ ALSO: 5 Christian Singers Who Are Transforming Lives Through Music
"It had twisted the ovary, cutting off the blood supply and causing the intense pain," the singer wrote. "By the time we reached the hospital, it had twisted back, which is normal and why the pain suddenly stopped."
Despite the pain subsiding, the doctor told Battistelli and her husband that she would need surgery to remove the large cyst. Considering she was so early in her pregnancy, the singer and her husband struggled over the decision.
An OB/GYN told Battistelli he didn't want to perform surgery while she was pregnant, and that the type of cyst she had wouldn't go away on its own.
"It would have to be a miracle," the doctor said.
READ ALSO: Tenth Avenue North Singer's Incredible Survival Story After Car Wreck
So, Battistelli, her family and friends turned to prayer.
"We talked and prayed and prayed and talked. I asked so many dear friends for prayer for wisdom and for the cyst to disappear," she wrote. "After praying it through, we just didn't have peace about doing the surgery now. We believed God could heal me!"
Fast forward to last week and Battistelli was in for a shock when she went for her 20-week ultrasound. A nurse practitioner measured the cyst and it was miraculously shrunken down to just one inch in length.
"It's not even a cyst anymore," the nurse said. "It's gone!"
READ ALSO: 7 Movies That Inspire Giving and Serving Others
This amazing news left Battistelli stunned and praising God. She openly shared the encouraging story on Instagram, where it was "liked" by nearly 38,000 people.
"We are overwhelmed by the goodness and the BIGNESS of God, and we want the world to know that He still heals!" she added. "My faith has been so strengthened by this, and I pray yours is too."
Want more inspiration? Watch thousands of other inspirational movies, TV series and documentaries by taking advantage of your free, one-month PureFlix.com subscription. You'll have access to thousands of kid and family-friendly pieces of content — fun for the whole family.