Earlier this year, on the floor of a huge hotel ballroom in Orlando, right in the middle of the action, an innovative Christian talk show was born. Pure Talk came onto the scene, appropriately, at the 2017 National Religious Broadcasters International Media Convention. The show broadcast on Facebook live with five episodes, and left audiences eagerly waiting for more.
And more they'll get, coming this month. With dynamic hosts and exciting guests, Pure Talk is once again tackling the issues of our day in a compelling way that audiences can engage with right from Facebook.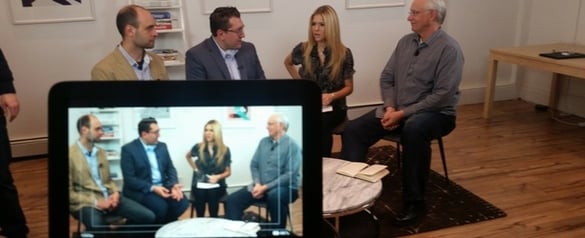 Host Billy Hallowell, senior editor at Faithwire, recently told Pure Flix Insider,
"One of the things that I had been thinking for years was, how can we create a talk show concept where you're bringing in different voices who are Christian, but are not just talking theology, they're talking current events through a Christian lens...Conversations where you don't leave hating each other, you leave... feeling like you've heard both sides out. PureTalk is the beginning of that concept. A show safe for Christians to watch but that tackle tough issues."
Hallowell says Pure Talk isn't like other shows, but is instead a forum for guests to discuss (and debate). It also provides an opportunity for viewers to chime in online via Facebook Live or watch past episodes for free on PureFlix.com. He says, "[Talk shows] are all about ratings, people say things that are controversial to get clicks, but that's not the goal of this. The goal is to actually provide a forum where people can sit down together, and not necessarily agree on an issue, but talk about it in a calm way that is not divisive."
Hallowell is joined this round by:
Kirsten Haglund, a Fox News contributor, former Miss America (2008) and host of the podcast, "Sonder." Her bio says she is "a regular commentator on women's health, politics, social issues and entertainment, she appears frequently on the Fox News Channel, on Huffington Post LIVE, "Real News" on The Blaze and "Dr. Drew On Call" on HLN."
Greg Gudorf is CEO of Pure Flix Digital, and has appeared on NPR, the "Lightbulb Moment" podcast, and Lifezette. Greg has decades of experience with start-ups and technology, including a long career at Sony Electronics, Technicolor and other companies.
Dan Andros is the managing editor at Faithwire and former head writer for Glenn Beck. He also wrote and directed the critically acclaimed film "Six Days in Iraq."
Upcoming Pure Talk episodes will tackle important issues like:
Education (prayer in school, homeschooling, and the brokenness of our school system)
Entertainment (is Christian entertainment on the rise?)
Politics (how should Christians navigate political conversations?)
Pro-life policy (how should we approach issues like abortion and the death penalty?)
Work (is working for a "Christian" company all that different than working for a secular one?)
You can contribute to these topics and more to come by watching Pure Talk on our Facebook page or for free on PureFlix.com. During the show, react and comment to get the most out of this interactive experience. Like us on Facebook now so you never miss an episode.