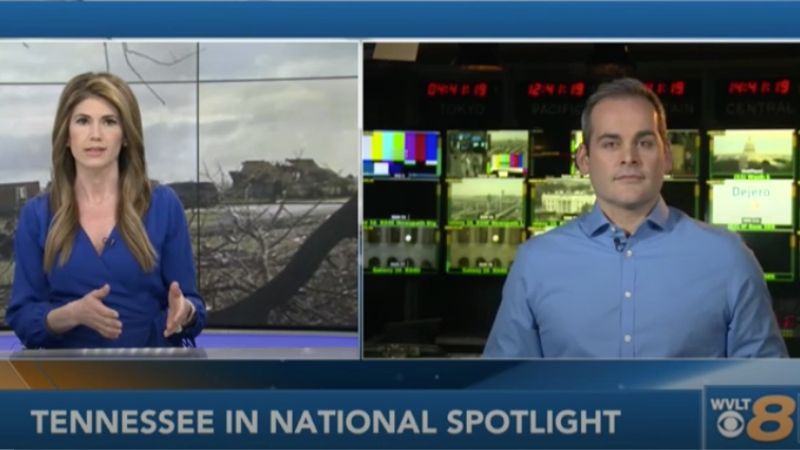 A journalist who covered the immediate impact of the tornadoes that devastated Nashville, Tennessee, last week, has revealed the most "unique" way in which victims responded to the fallout.
CBS News national correspondent David Begnaud told WVLT-TV anchor Amanda Hara that it was the mentions of God that most stood out to him.
GET INSPIRED: Grab a Free Trial of PureFlix.com to Watch Thousands of Faith and Family-Friendly TV Shows and Movies
"There was a resilience that seemed to bond them together, which was inspiring to me. Every single person that I spoke to mentioned God," Begnaud said. "I will never forget Eric ... who said, 'How are we here? How do you explain this? How do you explain that every single piece of my home is gone and I'm still here, and the only thing that is sitting on the slab of my home is the carpet that we sat on in the closet that is no longer there."
The journalist, who was clearly moved as he recounted these details, again noted that "nearly every person mentioned God."
READ ALSO: 6 Movies & TV Shows Now Streaming For You And Your Family
Hara proceeded to ask if there were any "pieces of happiness" that Begnaud noticed along the way, and the journalist pointed back to the cherished items that people carried away from the destruction — including beloved Bibles.
"It was the people who were walking away from their homes with the Bible that was untouched," Begnaud said. "The photo that was unscathed, their favorite piece of clothing that they found. That's what I remember."
Watch the powerful segment:
You can also read some of the other incredible stories about a Jesus portrait and a Bible that were both left unscathed.
And be sure to also watch PureFlix.com for more inspiration! You'll find thousands of faith and family-friendly TV shoes, movies and incredible original series. Stream clean right now with your free PureFlix.com trial.
(H/T: WVLT-TV)