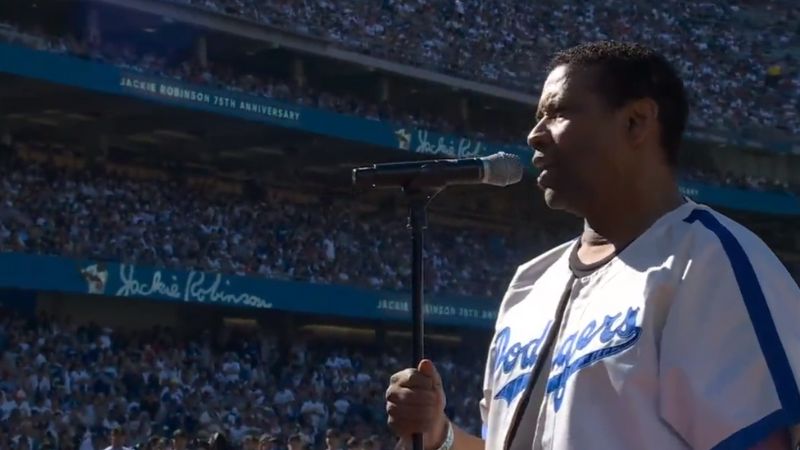 It's been 75 years since Jackie Robinson's first game in Major League Baseball. Forever known as the man who broke the color barrier in America's National Pastime, Robinson showed the United States—and the world—what it meant to embody perseverance, dignity and unwavering character in the face of unimaginable adversity.
In honor of that momentous anniversary, actor Denzel Washington gave a surprise speech honoring Robinson at Dodger Stadium prior to the 2022 MLB all-star game last week.
WANT MORE INSPIRATION? SIGN UP FOR THE PURE FLIX INSIDER EMAIL NEWSLETTER
"When Jackie Robinson stepped onto a Major League Baseball field for the first time, armed with supreme talent and unshakable character… he changed the game of baseball and so much more. What he carried with him, what he represented, was towering," Washington said.
Denzel Washington honors Jackie Robinson. Chills. #AllStarGame pic.twitter.com/Tm9BEj1FHJ

— MLB (@MLB) July 20, 2022
Washington acknowledged that Robinson was so much more than a baseball player, and used his platform to inspire and pave the way for those who would come after him.
"Beyond the field, Jackie Robinson challenged us to become better versions of ourselves: business leader, family man, activist, Hall of Famer," Washington noted. "He said that life is not a spectator sport, and he lived that motto to the fullest."
Washington previously made headlines back in April after another visit to Dodger Stadium. He had a chance to talk with the team in the clubhouse, wearing the same number 42 jersey he wore to the All-Star Game, and encouraged the players to never take for granted the influence they have over millions of people.
"Use it for goodness' sake, for God's sake," Washington said. "My entire life, for the rest of my life, is about doing God's business. That's all I'm about."
Jackie Robinson passed away in 1972, but his legacy continues to live on through his family (his widow, Rachel, just turned 100!), the Jackie Robinson Foundation, and his incredible story, which has been the inspiration behind numerous books and films over the years.
In fact, if you'd like to learn more about Robinson's story, be sure to stream "The Jackie Robinson Story" right here on Pure Flix! The film provides a detailed glimpse into the life of this iconic American sports hero, and his struggles to overcome bigotry.
Photo credit: Twitter
Other Must-Read Stories: