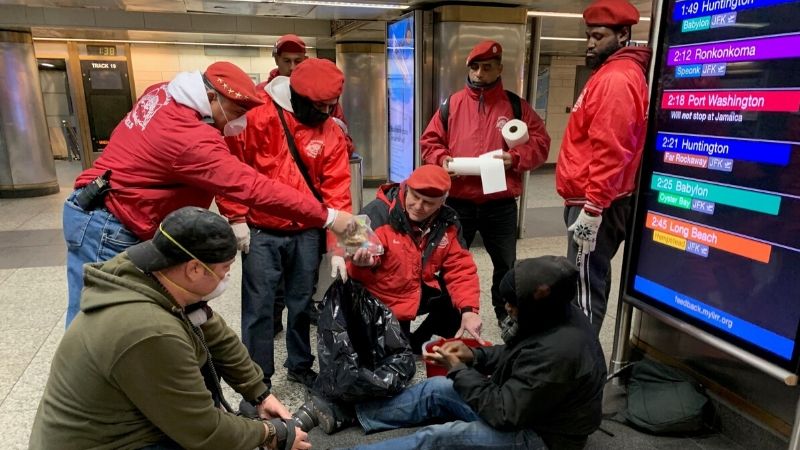 Curtis Sliwa, founder and CEO of volunteer organization Guardian Angels, is on a mission to help the poor and homeless amid the ongoing COVID19 crisis.
"We are not sheltered in, we are not hiding in place," he recently told "The Billy Hallowell Podcast," noting that he and fellow Guardian Angels are on the streets helping feed, clean and protect New York City's homeless population.
READ ALSO: HELPING OTHERS: 13 BIBLE SCRIPTURES ON GIVING
Sliwa offered a passionate defense of the most vulnerable; rather than staying inside, he explained why he and others are intentionally on the streets each week to help the homeless and emotionally-disturbed.
"They need to be cared for," he said. "But everyone [is] running from them."
Listen to Sliwa discuss how he's helping the most vulnerable:
The Guardian Angels are on the frontlines helping wash and sanitize the homeless, offering care packages that include water, sandwiches, wipes and snacks.
Sliwa said that he lives with a "Good Samaritan philosophy" — a biblical reference about helping those in need.
"Under normal circumstances when the streets of New York are filled with capacity … you can spot the homeless, you can see the emotionally disturbed persons," Sliwa said, noting that they're now the only ones around. "But now it's more pronounced."

He affirmed something many people know but might not be focusing on during this pandemic: homeless men and women live in "horrendous conditions" on normal days, but COVID19 is creating increasingly difficult circumstances for these people.
"Everybody's talking about sheltering in, but wait a second, there's no shelter for the homeless," Sliwa said. "There's no shelter for the emotionally-disturbed."
The nonprofit leader worries that too many people are looking inward during this crisis rather than seeking ways to help others.
"Now, all of the sudden it's 'an I and me philosophy,'" Sliwa said, decrying that notion. "Those of us who are of sane mind and healthy body must go out there and help those who cannot help themselves."
Find out more about the Guardian Angels here — and be sure to stream thousands of faith and family-friendly movies and TV shows right now on Pure Flix. Get your free trial here.