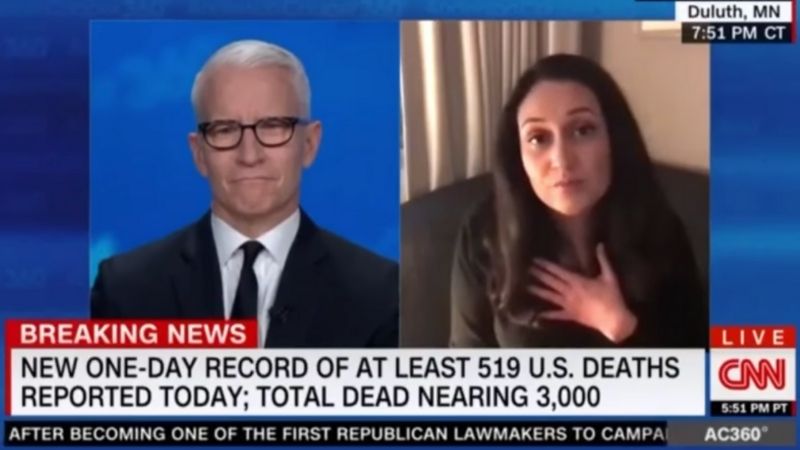 A Minnesota State trooper recently pulled a doctor over for speeding, but rather than issue her a ticket, he did something truly unexpected: he gave her N95 masks.
Cardiologist Sarosh Ashraf Janjua described the interaction in a Facebook post, noting that the cop involved — identified as Brian J. Schwartz — was truly kind and generous.
SIGN UP FOR INSPIRING FAITH AND FAMILY FRIENDLY MOVIES & TV SHOWS
"Minnesota State trooper pulled me over on I-35 this past weekend for driving above the speed limit. When he saw my Massachusetts driver's license, he asked me what I was doing all the way out in Minnesota," Janjua wrote. "So I told him I travel here every month for my work as a locums cardiologist."
Watch Janjua tell her story to CNN's Anderson Cooper:
After Schwartz went back to his patrol vehicle, he returned to "firmly" tell her she was being irresponsible by speeding, and that she should be more careful.
"Feeling thoroughly chastised, I waited for him to write me a ticket," Janjua said. "Instead, he told me he was going to let me off with a warning."
READ ALSO: 'I've Never Done This': MSNBC Host Asks Pastor T.D. Jakes To Pray On Live TV
But that's not the end of the story.
As Janjua prepared to apologize, the officer handed her five N95 masks — gear he had been given for his own protection amid the COVID19 crisis.
It was a kind gesture that deeply moved Janjua, as this gear is in short supply among medical professionals right now in many places across the U.S.
"I burst into tears," she said. "And though it may just have been the cold wind, I think he teared up a little as well, before wishing me well and walking away."
Concluding her Facebook post, she added, "This complete stranger, who owed me nothing and is more on the front lines than I am, shared his precious masks with me, without my even asking."

What a powerful gesture during a truly painful and uncertain time.
If you're looking for more spiritual inspiration, consider watching sermons and uplifting messages right now on PureFlix.com. Plus, we have thousands of TV shows and movies you can watch with your free trial.