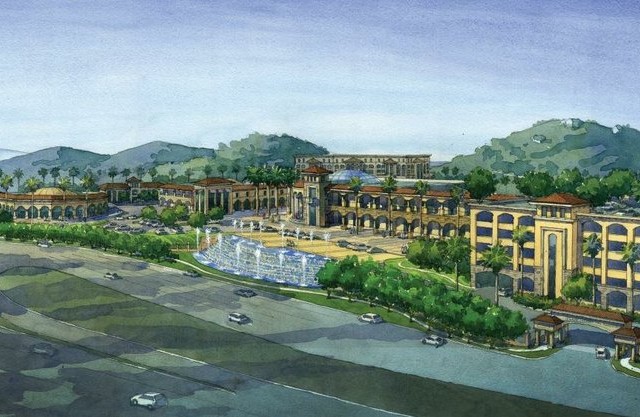 A Christian-themed resort—featuring a biblical museum, a domed cinema capable of simulating wind, snow and fog, and a 20-foot-high replica of Jerusalem's Western Wall--is under discussion in San Diego.
The proposed San Diego project joins other Christian cultural/historical attractions in the U.S. including the Holy Land Experience in Orlando, the Creation Museum in Cincinnati, the planned Museum of the Bible in Washington, D.C., and the Ark Encounter, which is slated to open in Kentucky this summer.
The Morris Cerrulo International Legacy Center still hasn't received approval from the San Diego city council, but it hopes to break ground this year in the city's Mission Valley area and potentially open in late 2017 or early 2018.
Jim Penner, executive director of the center, told the San Diego Union-Tribune: "This idea of themed entertainment is going to start reaching into all kinds of fingers – in museums, the waterfront, and you need a lot of touchy feely technology. It's a business model. It's just based around religious themes rather than secular themes.
Read Also: Family-Friendly Movie Challenge
"We're not trying to cover up the fact that it's religious in nature. We're just creating it in a way that's very attraction-oriented."
The $125 million project, which is expected to attract 400,000 visitors a year, will also house Cerullo's new ministry headquarters and 127 timeshare units. Cerullo's controversial ministry "is based around his claims to be able to perform miraculous healings, none of which have been substantiated by doctors," according to Christian Today
Visioneering President McGowan, who spent nearly a decade at the Walt Disney Company, told the Union-Tribune that he thinks the intersection of Biblical times with world history and culture makes for a far more compelling backdrop than the California theme used for the Disneyland Resort expansion, which he was involved with.The televangelist has hired Visioneering Studios, which is run by Walt Disney vets, "to help bring to life the project's vision for a museum featuring artifacts from [Cerullo's] world travels, an outdoor bazaar-like marketplace, the catacombs and a 'History Dome Theater,' "
"Part of our job is to design it for the broadest market possible," McGowan said. "We're not doing our job if this is supposed to be a weird, evangelical mecca."
If you can;'t make it to one of the Christian-themed attractions around the country, PureFlix.com features several streaming movies that take viewers to distant lands while providing historical and cultural insight, including "Jerusalem, " "Babylon: Past, Present and Future" and "Exploring Ephesus."
Not a member of the Pure Flix Digital Streaming Service yet?
and start enjoying thousands of Christian and family-friendly originals, movies, TV shows, and educational programming online anytime, from virtually anywhere, on any device, FREE for a month.