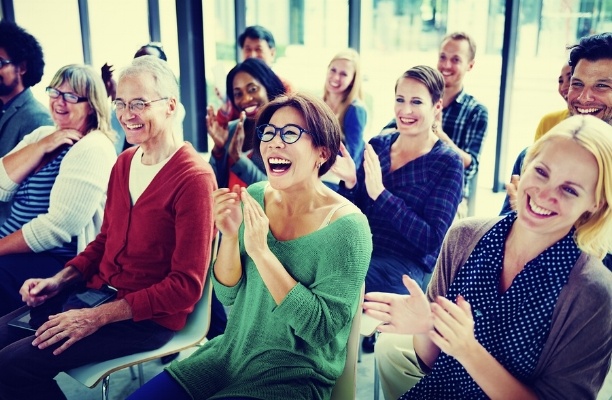 Streaming TV episodes online is like opening a bag of chips - one is just never enough. TV episodes play back to back, and before you know it, you're half-way through a season. A recent Business Insider article noted the cringeworthy truth that Americans spend more time watching Netflix than they spend hanging out with friends, exercising, and reading, combined. How do we stop this binge watching trend before it starts in our families, or if it's already begun, how do we escape the vortex of incalculable hours of TV streaming into our homes?
The Church Community Cultivates Human Community

One way of changing this trend is closing our personal computer screens and spending time with people, which according to a Psychology Today article has a positive effect on our overall wellbeing.
As Christians, we are blessed to have a built-in community within our churches. While, we can in effect still feel part of a church by streaming a church service online, a recent Huffpost Religion article argues that actual church membership is crucial. The author, who is also a pastor, points out that the church is where you find authority and fellowship that will not only hold you accountable, but also provide you with authentic community to encourage and strengthen you.
Read Also: How to Do a Family Night Right
So when looking for community, check out your church first. Not only do churches provide services where people meet and gather together in praise, they also offer small groups, Bible studies, socials, and volunteer opportunities. The church is always there to provide a community of people striving to live the same virtues and habits as you and your family.
When You Need Your Fix, There's Pure Flix
Of course we at Pure Flix Entertainment know that TV in and of itself is not a bad thing. Watching good TV can inspire and lift us up just as much as watching mainstream TV bring can discourage and bring us down. TV can even serve to build community, especially in the context of family movie nights or church screenings. Our streaming service, PureFlix.com, offers over 3,500 titles including TV shows, so you know that even the occasional episode binge will at least be made of positive content.
Read Also: 5 Christian Movies to Enjoy with Your Bible Study
For TV series, we recommend the recently added, Heartland, a show about a family who runs a ranch in the Alberta foothills. The beautiful scenery and the captivating storyline will surely draw you into this heartwarming series. Watch Heartland today at PureFlix.com and follow young Amy Fleming as she discovers the ways she possesses her now-deceased mother's ability to aid injured horses, and the ways that affects the ranch, her family, and her friends.
Seasons1-6 of Heartland are currently available at PureFlix.com, and seasons Visit PureFlix.com today for a free trial, and begin watching Christian movies, TV shows and overall better content that will inspire you, your family, and your community.
Read Also: PG Movie Ratings Not So PG Anymore