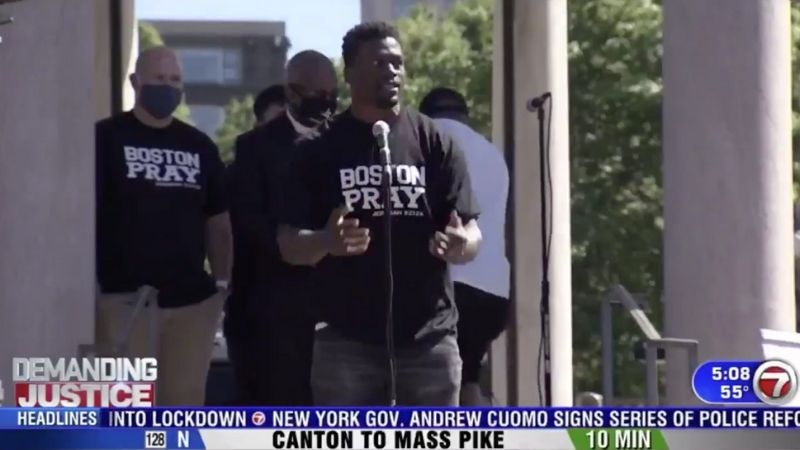 Former NFL star Benjamin Watson helped organize Boston Pray, a powerful event that brought together more than 1,000 people in Boston on Sunday to seek God's guidance for America.
"What is always needed is a spiritual change," Watson said during the event, which was organized by his Watson One More Foundation, UniteBoston and a number of other groups. "That's at the heart of everything. Racism is sin."
WATCH: SEE THOUSANDS OF FAITH AND FAMILY-FRIENDLY MOVIES AND TV SHOWS ON PURE FLIX
The former football player said the goal of the event was to bring people together in prayer to "seek God's face" as the U.S. considers its next steps amid furor over the killing of George Floyd, The Christian Post reported.
"When it comes to racism or issues of our day, we must enter into it with humility," he said.
Thanks to all who came to #BostonPray yesterday! Move forth in action! https://t.co/ulspgpF4XO

— Benjamin Watson (@BenjaminSWatson) June 15, 2020
Watson also spoke about "justice," explaining that the definition is something truly powerful that should deeply matter to every human being.
Justice, he said, should "be blind" — and kindness should abound.
"Whether it's your experience or not, treating people with the kindness that you would want to receive … justice, He's a God of justice," he said. "Now, we talk about that word a lot, right? Justice simply means giving people their just due, whether that's protection or whether that's punishment."
Watch some of Watson's speech:
Former NE Patriot Ben Watson speaks at the Boston Common for Boston Pray #wbz pic.twitter.com/6nmyVcPBpe

— Paul Burton (@PaulWBZ) June 14, 2020
Want more inspiration? Check out these prayers you can say for America and others right now – and read some powerful Bible verses to help fight fear. Plus, you can stream thousands of faith and family-friendly movies and TV shows here.