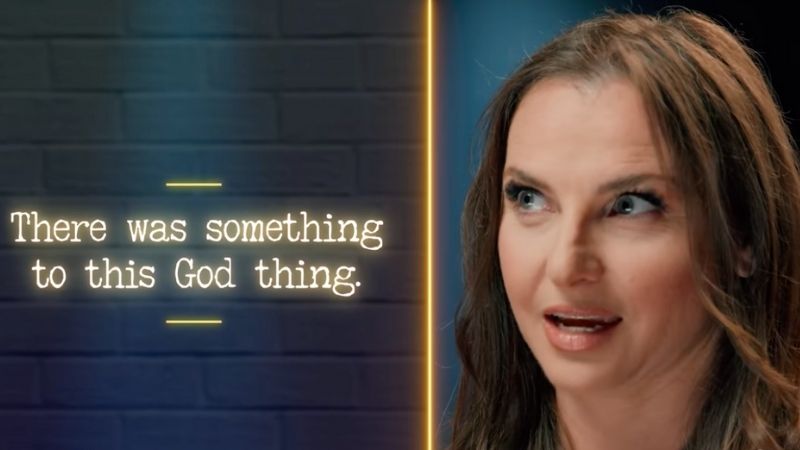 Adrienne Johnson always knew something was missing. As a teenager, she tried to fill the "God-sized hole" in her heart with sex, drugs and alcohol. In college, the cynical atheist turned to politics for fulfillment and to men to make her feel complete.
Nothing worked.
It wasn't until her self-destructive habits ruined her life and her husband divorced her for being unfaithful that God began to soften Adrienne's heart to the truth of the Gospel and completely transformed her life.
WANT MORE INSPIRATION? SIGN UP FOR THE PURE FLIX INSIDER EMAIL NEWSLETTER TODAY!
"I know what it's like to feel completely hopeless and to feel like you're completely at the end and to feel like this pain is going to kill you and destroy you. It won't unless you let it," Adrienne explained. "You just have to be willing and let [God] take over. That's what I did and He completely changed my life."
Despite spending her whole life completely hostile towards faith and religion, hitting rock bottom forced Adrienne began to open herself up to the possibilities of God, a process she detailed in a video for PragerU, where she currently serves as chief of staff.
"I was so desperate and in so much pain that I was willing to try anything," she laughs.
After dabbling in New Age spirituality and practices for over a year, Adrienne accepted a friend's invitation to see a theater adaption of C.S. Lewis' "The Screwtape Letters."
READ ALSO: WHY DO PEOPLE BELIEVE IN GOD? 6 OF ATHEISTS BIG QUESTIONS ARE ANSWERED
"It blew me away," she admitted. "It's like resonating in me so powerfully that I had to at least consider the option of Christianity, which as a former atheist is the most uncomfortable, ridiculous thing to consider."
Despite that discomfort, Adrienne was convinced that "God was the answer" she had been looking for all along. She found her wholeness in Christ and now nothing can ever take His place.
"I can never get [satisfaction] from another person. I can't get it from my status. I can't get it from money. I can't get it from how I look. I can't get it from anything. But with God I am fully satisfied," said Adrienne, who is now remarried with two wonderful children.
"Our God is the God of a million second chances and He can work with anything as long as you give it to Him."
Photo Credit: Prager U / YouTube
H/T: Faithwire
Other Must-Read Stories: