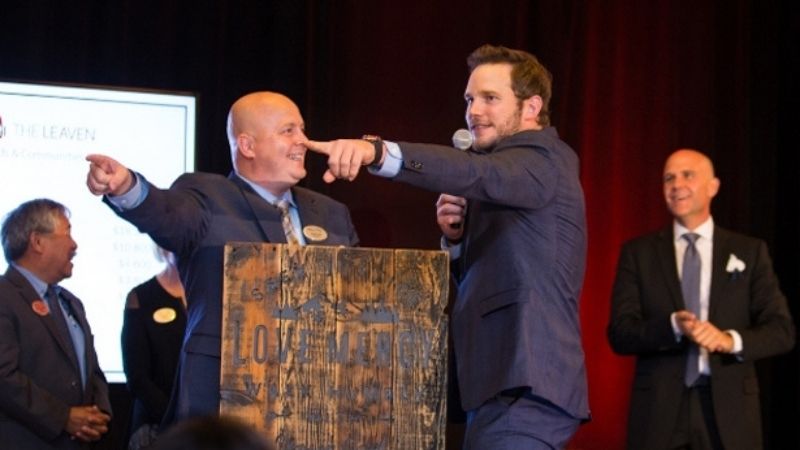 Actor Chris Pratt is a Hollywood megastar known for performing in some of the biggest films. He's also a Christian who does plenty of good deeds and openly discusses his faith — a true rarity among people with his level of fame.
WANT MORE HOPE AND INSPIRATION? SIGN UP FOR THE PURE FLIX INSIDER WEEKLY EMAIL
Last month, Pratt made headlines for being dubbed what some called "the worst Hollywood Chris," with commentators taking to Twitter and other social media platforms to attack Pratt over a variety of issues, including his faith allegiances.
Much of the angst came after Pratt's "Avengers" co-stars attended a political fundraiser, and he did not. But, as Us Weekly noted, the viral roast and attack on Pratt's character was truly ignited by a simple, benign and seemingly innocent tweet:
After producer Amy Berg shared a series of photos of four actors named Chris — Pratt, Chris Hemsworth, Chris Evans and Chris Pine — on Saturday via Twitter and declared "one has to go," Pratt, 41, was the resounding choice to get the boot. "Pratt. Without hesitation. He's objectively the worst," one Twitter user replied.
What followed was a slew of social media responses, including some harsh attacks on Pratt. What's unique, though, is that many of Pratt's fellow actors — including some "Avengers" co-stars" — publicly came to his defense.
Fellow actors like Robert Downey Jr. and Mark Ruffalo immediately took to social media, praising the actor, noting that his faith is genuine and revealing the type of person he is behind the scenes. So, let's explore these responses and some of the powerful reasons Pratt is quite possibly "the best Hollywood Chris."
READ ALSO: 'GOD LOVES YOU': CHRIS PRATT'S 5 MOST POWERFUL CHRISTIAN QUOTES
'A Real Christian': Robert Downey Jr.'s Response
Downey's defense of Pratt is perhaps the most robust, with the actor calling him a "real Christian" and offering some other important and thought-provoking elements worthy of consideration.
Mainly, Downey reminds us of what we have seen many times before: Pratt "lives by principle."
"What a world... The 'sinless' are casting stones at my #brother, Chris Pratt... A real #Christian who lives by #principle, has never demonstrated anything but #positivity and #gratitude... AND he just married into a family that makes space for civil discourse and (just plain fact) INSISTS on service as the highest value," Downey wrote on Instagram. If you take issue with Chris... I've got a novel idea. Delete your social media accounts, sit with your OWN defects of #character, work on THEM, then celebrate your humanness."
Downey's response reminds us that many in Hollywood (and outside of Hollywood) see Pratt as genuine, regardless of whether they agree or disagree with him. That's powerful and says a great deal about Pratt's character — especially when the cameras are off and his fellow cast members get to know him.
Actress Zoe Saldana drove this home in her response when she tweeted the following to Pratt: "Your family, friends, colleagues & everyone who's ever crossed paths with you knows your heart and your worth!"
No matter how hard it gets, stick your chest out, keep your head up and handle it.
-Tupac
You got this @prattprattpratt . Your family, friends, colleagues & everyone who's ever crossed paths with you knows your heart and your worth!

— Zoe Saldana (@zoesaldana) October 21, 2020
Pratt Has Honored God in Unlikely Places
Without a doubt, Pratt is one of the most recognizable faces in Hollywood — a place not known for putting God front and center. And yet the actor has done just that, invoking God in uncomfortable and surprising places.
Pratt took the stage at the 2018 MTV Movie & TV Awards and boldly told the audience that God loves them and wants the best for them. He said,"God is real. God loves you, God wants the best for you. Believe that. I do."
And he wasn't done there.
Pratt also reminded the MTV audience that no one is perfect — and that God designed each and every person. The actor also said that "grace is a gift."
"Nobody is perfect. People will tell you that you are perfect just the way that you are, you're not! You're imperfect. You always will be, but there is a powerful force that designed you that way, and if you are willing to accept that, you will have grace. And grace is a gift. Like the freedom that we enjoy in this country, that grace was paid for with somebody else's blood. Do not forget it. Don't take it for granted."
That's not an easy thing to do, and yet he chose to do it.
READ ALSO: INSIDE THE ABSOLUTE BRILLIANCE OF CHRIS PRATT'S EPIC 'GOD' TALK
Pratt Has a Passion for Young People
Pratt seems to remember where he came from and what's most important. He also made headlines at the 2018 Teen Choice Awards when he got on stage and thanked God. In addition to thanking the Lord, he went on to say that he believes it's important to invoke God when speaking in front of youths.
"I want to thank God," Pratt proclaimed. "I always do that when I'm up on a platform in front of a bunch of young faces."
And the actor added, "I love God, that's my thing I love him! And you should too!"
Pratt Is Intent on Being a 'Light'
Pratt has also made it openly clear that he want to be a light in darkness, and that it's essential for him to make sure he keeps himself in check. He told "The Late Show" host Stephen Colbert about the intensity that sometimes comes with his fame.
"If the spotlight that's shining on you is brighter than the light that comes from within you — it'll kill you. And you see it all the time," Pratt said. "People in our position, people that are actors, you see a lot. It's this real bright spotlight."

He continued, "Sometimes just having a self to share is what kills you because there's nothing left. So you have to have a light to share. You have to have a light that's just a bright as any of these lights."
That's exactly true. And many actors are nice only to people in power. What matters to me is how people treat the crew members, and wait staff, and fans. And Chris Pratt is always incredibly kind to these people, which is one of the reasons I love him. https://t.co/3UjuW5NTVv

— James Gunn (@JamesGunn) October 20, 2020
Pratt Is Known for His Kindness
"Guardians Of The Galaxy" director James Gunn was among those who defended Pratt this week amid social media attacks, revealing the kindness he's seen the actor show to everyone around him on set.
"Many actors are nice only to people in power. What matters to me is how people treat the crew members, and wait staff, and fans," Gunn tweeted. "And Chris Pratt is always incredibly kind to these people, which is one of the reasons I love him."
Ruffalo, Pratt's "Avengers" co-star, tweeted that Pratt is "as solid a man there is." Noting that he knows him personally, he encouraged people to look at how Pratt "lives his life." And if you're wondering how he lives, just look at the many times he has visited sick kids and spoken out about how the experiences have blessed his life.
These are just some of the reasons Pratt might just be the best Chris in Hollywood. And if you're looking for more faith and Hollywood headlines, subscribe to our weekly Pure Flix Insider e-mail, with links to the most important faith and entertainment headlines.