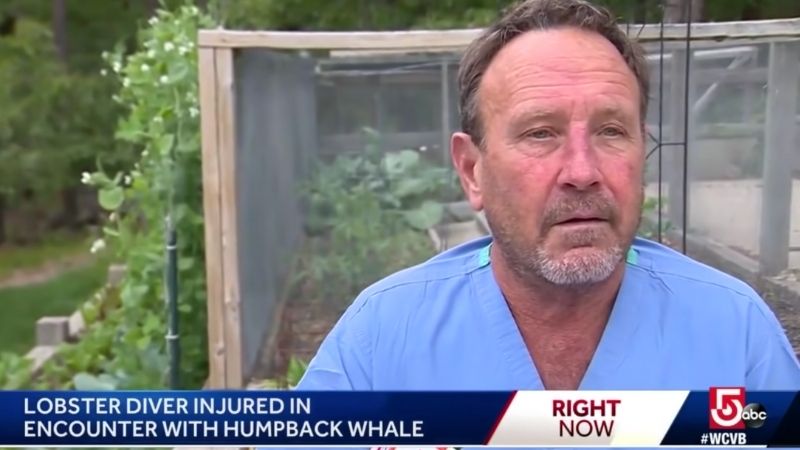 A lobster diver's almost-unbelievable story about being swallowed by a whale — and surviving — has been making the rounds, with the viral tale appearing in almost every media outlet imaginable.
READ ALSO: TERRY CREWS' WIFE ON HIS STUNNING TRANSFORMATION: 'HE LET GOD DO A WORK IN HIS LIFE'
But what are the unique details behind a very strange and fascinating story that undoubtedly has some biblical undertones? Let's break it down.
Who Was Swallowed? Meet Michael Packard
The hoopla started last week when veteran lobster diver Michael Packard, 56, said he recently ended up inside of a whale. Yes, you read that correctly.
Packard, who has been a lobster diver for 40 years, experienced a very rare — and absolutely horrifying — encounter during his second dive of the morning last Friday. He ended up in the belly of a beast.
The encounter started after he jumped into the water; suddenly, everything went dark. He told WBZ-TV that he initially thought it was a shark attack, but quickly realized he was facing something else entirely.
"I felt around and I realized there was no teeth, and then I realized, 'Oh my ... I'm in a whale's mouth ... and he's trying to swallow me," he said, noting that he thought, "This is it, I'm gonna die."
SUBSCRIBE: WANT POWERFUL ENTERTAINMENT & NEWS STORIES DELIVERED TO YOUR INBOX? SIGN UP!
How Did Michael Packard Survive?
If you're still grappling with the bizarre notion that Packard was nearly-swallowed by a whale, you're not alone. It's a wild story, but here's what happened next: the whale essentially spit him out.
The entire encounter lasted an estimated 30 to 40 seconds, The Cape Cod Times reported.
"Then all of a sudden he went up to the surface and just erupted and started shaking his head," he told WBZ-TV. "I just got thrown in the air and landed in the water. I was free and I just floated there. I couldn't believe ... I'm here to tell it."
It turns out there was at least one witness as well — a captain who was on the water and said he saw the entire thing. Packard was only hospitalized for mere hours after his miraculous escape.
WANT INSPIRATION? BECOME A PURE FLIX MEMBER TO WATCH FAITH AND FAMILY-FRIENDLY MOVIES & TV SHOWS
One Other Crazy Detail
The Cape Cod Times noted something else about Packard's story: he has survived a harrowing ordeal before. The lobster diver also reportedly survived a plane crash a decade ago while traveling in Costa Rica. The outlet reports:
Ten years ago, while traveling in Costa Rica, he was a passenger in a small plane that crashed in the jungle, killing the pilot, co-pilot and a passenger. Packard sustained multiple serious injuries to his abdomen and upper body. The rescuers that found the remaining five passengers after two nights in the jungle said they wouldn't have survived another night.
Michael Packard vs. Jonah
We would be remiss not to mention the parallels between the biblical story of Jonah and Packard's own ordeal. There are many differences, of course. Packard lasted seconds in the whale, while Jonah was inside the large fish for three days and three nights.
Also, as Biblica notes, the fish spit Jonah out on dry land, while Packard was spewed back into the water. The most glaring similarity, of course, is that both men were eaten — or nearly eaten — by massive sea creatures.
And Packard's ordeal has people thinking back to the biblical story of Jonah and realizing: wow, it is possible for a "large fish" (in this case, a whale) to swallow a human!
Thankfully, Packard is okay and his story is fascinating us all. Want more inspirational stories? Sign up for our Pure Flix Insider weekly email for more inspiring entertainment and news stories!
Featured Image Credit: WCVB-TV