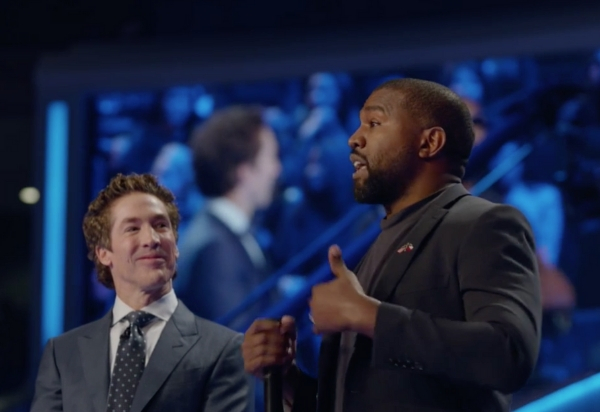 Rapper Kanye West continues to make headlines for spreading his newfound faith around the U.S., with his latest appearance on Sunday at Joel Osteen's Lakewood Church in Houston, Texas, sparking a plethora of headlines.
West, who recently released his gospel-themed rap album "Jesus is King" and who has been traveling around the U.S. for his "Sunday Service" events, appeared alongside Osteen and shared his journey.
READ ALSO: Kanye West's 'Sunday Service' Pastor Takes You Inside Rapper's Faith
The rapper made some intriguing proclamations about Christ, fame and the devil, speaking at the 11 a.m. service and then holding a separate 7 p.m. "Sunday Service" event at Lakewood.
Here are just a few of West's most fascinating statements while speaking on stage with Osteen earlier in the day:
West Spoke About Past Distractions
"God's been calling me for a long time and the devil's been distracting me for a long time." - Kanye West
The Rapper Said He's Now Working for God
"Every time I stand up, I feel that I'm standing up and drawing a line in the sand and saying I'm here in service to God." - Kanye West
Watch the evening "Sunday Service" event:
He Said Jesus Is the Only True Star
"The only superstar is Jesus." - Kanye West
West Spoke About Arrogance
"All of that arrogance and confidence and cockiness that y'all seen me use before, God is now using for him." - Kanye West
He Hit Back at the Devil
"The devil will come and do everything he can to distract people from showing service to the Lord." - Kanye West
Want to learn more about West and his newfound Christian faith? Listen to our podcast with Adam Tyson, the pastor who regularly appears at West's "Sunday Service" events: