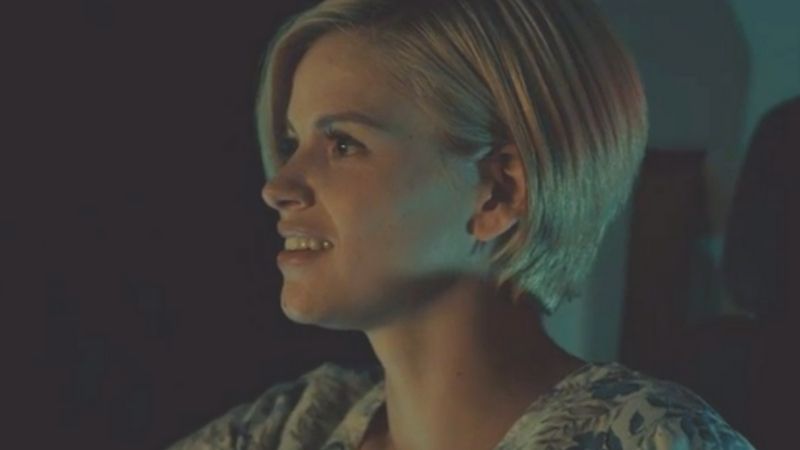 "Fear can take even the most joyful moment and twist it into a nightmare."
This line, from episode four of the second season of "The Encounter" on PureFlix.com, leaves us with an eternal truth worth pondering. Fear can without a doubt be a joy-stealer, and its presence in our lives — especially when left unchecked — can ruin everything.
WATCH: Stream Season Two of 'The Encounter' Right Now on PureFlix.com
In this chapter of "The Encounter" we meet a married couple named Trask and Sheila. Listen to our devotional to take away some powerful lessons:
The episode opens with Trask, a mechanic, unable to get the couple's car to work. And these vehicle problems come at the most inopportune time, too, as Sheila is in labor and needs to get to the hospital to give birth to their first baby.
The two can't stop fighting in the midst of the chaos and soon find themselves on an unexpected and dangerous journey. Watch their story unfold on PureFlix.com, and let's explore the following lessons to see how the central themes apply to our own lives:
Don't Let Negative Ideas Into Your Head
Satan attempts to impact our thoughts and lives. We see Trask and Sheila saying and doing some things that are hurtful toward one another (watch the trailer for Season Two here). And, through their circumstances, we see the impact of what happens when we let hurt and anger permeate our hearts and minds.
So, when we see ourselves following negative patterns, it's essential we take a moment to pause and turn to Christ for guidance. Satan thrives off chaos and division, but Christ instills peace. If we're in crisis with ourselves or others, we must turn to Him for guidance.
READ ALSO: Why God Sometimes Says 'No' To Our Prayers
"The thief comes only to steal and kill and destroy," Jesus proclaims in John 10:10 (NIV). "I have come that they may have life, and have it to the full."
You can find full life through the Lord.
Don't Believe the Lies
The Bible also tells us that Satan is a liar, and has been one since the beginning of his existence. We see this play out in "The Encounter" with "The Man" (Jesus) proclaiming the following: "That's how [Satan] works — tricks you into believing your fear is reality."
Rather than trust the devil's lies, Jesus encourages the main characters to be "sure" of him instead, and to trust. Jesus added, "You need to learn how to trust — if only you're willing to let me teach you."
Let's each be willing to submit to God and allow him to teach us the trust needed to overcome our fears — fears and lies that many times come from the devil and are intended to be stumbling blocks.
READ ALSO: 5 Faithful Tips On How To Pray To God
The Bible speaks plainly about these issues. Jesus says the following of Satan's nature in John 8:44 (NIV): "He was a murderer from the beginning, not holding to the truth, for there is no truth in him. When he lies, he speaks his native language, for he is a liar and the father of lies."
Prayer Matters — All the Time
At one of the most harrowing moments in the episode — the climax of the problems between Trask and Sheila — we see Trask desperately turning to God in prayer. We can likely see ourselves in his desperation, as we have all faced similar uncertainty and panic.
"Is anybody up there? God are you up there?" he proclaims. "I'm freaking out ... please, help me."
We see Trask turn to God in his time of need and we then see Jesus respond. It's important we remember in our own lives to always approach God in prayer ... not solely in the desperate moments that strike us and leave us alone and in pain.
Our prayers matter all the time, as we're called to a relationship with Christ. And a relationship requires ongoing communication, love and trust — in the good times and the bad.
Face Your Fears
Once you face your fears, you can overcome them — and all of that is possible with the Lord. We see this message throughout the fourth episode of the second season of "The Encounter."
READ ALSO: 10 Bible Verses To Help You Battle Fear And Anxiety
Psalm 46:1-3 (NIV) offers us a powerful message about the importance of pushing back against various fears that might emerge in our lives:
"God is our refuge and strength, an ever-present help in trouble. Therefore we will not fear, though the earth give way and the mountains fall into the heart of the sea, though its waters roar and foam and the mountains quake with their surging."
God is for us, with us and will never forsake us. Pray for strength, courage and the hope needed to overcome your fears today.
"I'll never leave you," Jesus proclaims in "The Encounter." This is a truth we can each personally cling to in our lives as well, and one that is embedded in scripture.
Be sure to find out how Trask's and Sheila's story unfolds by watching season two, episode four of "The Encounter" on PureFlix.com. You can see this incredible, original series along with thousands of other movies and shows with your free PureFlix.com trial.