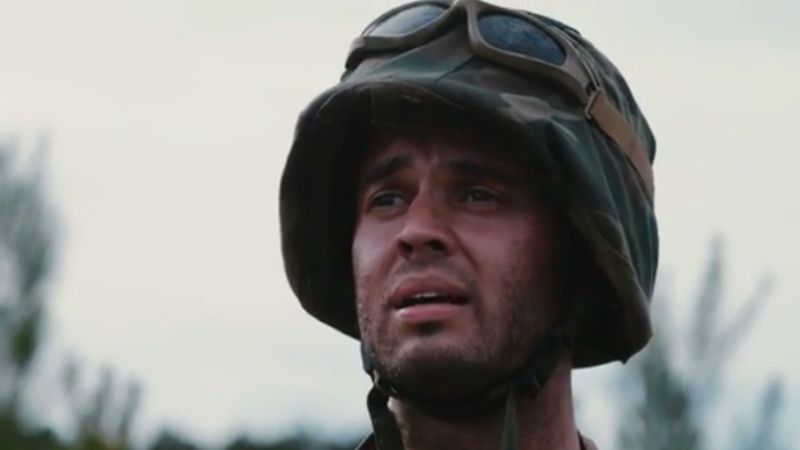 Sometimes in life we find ourselves caught in the "crosshairs." But no matter what we face, we have no need to fear. Still, it's easy to find ourselves off balance when life throws us unexpected curve balls.
The Bible has much to tell us about coping with these types of scenarios. Psalm 28:7 (NIV) reads, "The Lord is my strength and my shield; my heart trusts in him, and he helps me. My heart leaps for joy, and with my song I praise him."
WATCH: Stream Season Two of 'The Encounter' Right Now on PureFlix.com
Episode six of the second season of "The Encounter" takes us to a scene set in November 2011 in Afghanistan — a harrowing ordeal that shows U.S. soldiers in the heat of fighting. The story is a tragic one, but there are some important lessons for us to glean:
Don't Lose Hope
After one of the soldiers dies, the other, U. S. Army Sniper Cody Hyatt, prays to the Lord. "I'm not afraid of dying Lord." But as Cody talks, it's evident he's giving up hope after being shot and injured in the middle of an Afghan field.
"I think I've got a one-way ticket to the pearly gates," he told a shepherd (i.e. Jesus) who emerged in the midst of his struggle.
In life, we sometimes feel the same way — like there's no hope, nowhere to turn and no reprieve. We feel stuck, alone and rudderless.
READ ALSO: Why God Sometimes Says 'No' To Our Prayers
But just as Jesus cares for Cody in his time of need, we, too, can find the power in Christ to keep going and not "give up." No matter what we face, we can take solace in Psalm 28:7, as we remember that God is both our shield and our strength.
There's Power in Sacrifice
We see Cody's friend give his life for him in "The Encounter," and we're reminded that Jesus also gave up his life for each one of us and all humanity.
"Sometimes we're called to give our lives for our friends," Christ proclaims in the series. While we all won't be given such a tall order in our own lives, we can still look for ways to lovingly help and sacrifice for others.
From small acts of love and kindness to larger gestures, we should remember that there's power in sacrifice. We are called to love God and love others, and as we consider that second point, we must remember that Christ is our ultimate example of perfect love.
We Don't Always Understand
Another lesson we can take away is really more of a reminder: That many of us have tough questions for Jesus. From questions about suffering to curiosities about why some are healed and others aren't, there's no shortage of mysteries that leave us wondering.
READ ALSO: 5 Faithful Tips On How To Pray To God
And Cody is no exception, as he asked Jesus about these very things in "The Encounter." "I heal for many reasons, all beyond your understanding," Christ said at one point, going on to remind Cody of an important truth that can help sustain us all.
No matter how fractured and chaotic the world is, Jesus said the following in the series — "I still can make all things work together for good."
This is a biblical truth that we must remember in our own lives. Even though we can't see the full picture, God can. We might not understand the "why" but we know "Who" we can trust.
Be sure to find out how Cody's story unfolds by watching season two, episode six of "The Encounter" on PureFlix.com. You can see this incredible, original series along with thousands of other movies and shows with your free PureFlix.com trial.