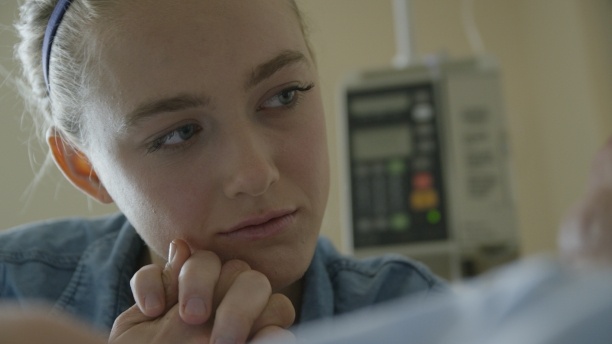 This past weekend the PureFlix exclusive release, "Until Forever," won the Audience Favorite Award at The Attic Film Festival in Austin, Texas. To add to this great achievement, "Until Forever" also won The Attic Film Festival's Best Female Performance Award with Madison Lawlor's performance of Michael Boyum's girlfriend, Michelle.
"Until Forever" was produced by Linn Productions, a Rapid City-based production company owned by Carolyn Linn and sons, Michael, Marc, Eric, and Nicholas. Written and directed by Michael Linn, this Christian movie follows the heroic true story of Michael Boyum, and his courageous struggle with a rare form of leukemia. Throughout the film, Michael (played by Stephen Anthony Bailey) and Michelle's (Madison Lawlor) relationship is filled with love and laughter and bonded by strong faith. When the young couple's dream of a future together is interrupted, they are confronted with circumstances that will test the boundaries of their commitment. Though their prayers aren't always answered in ways expected, Michael, his family, and Michelle are triumphant in discovering God's goodness and faithfulness.
The Attic Film Festival showed "Until forever" and other Christian movies at central Austin's Alamo Drafthouse. On Friday evening and all day Saturday, judges and participants screened over 16 films. This year's list included some spectacular titles, such as "Woodlawn," "Simon Says," and "Many Beautiful Things." Up against this impressive roster, the Audience Choice Award was a great honor for "Until Forever."
Nominations and Screenings at ICFF and Life Fest
"Until Forever" is also nominated for several other awards at the
International Christian Film Festival
(ICFF), which will take place this coming weekend at B Resort and Spa in Orlando, FL. "Until Forever" nominations include:
Stephen Anthony Bailey for Best Actor
Madison Lawlor for Best Actress
Best Musical Score
Best Picture
The International Christian Film Festival will also have an Audience Choice Award. The festival will span 3 days and show over 40 movies, documentaries and music videos. A red carpet and award ceremony will take place Saturday evening.
Life Fest Film Festival also takes place this weekend in Los Angeles with "Until Forever" as one of its three feature films. Check the "Until Forever" Facebook page for updates on both Life Fest Film Festival and the International Christian Film Festival.
Until Forever Available to Stream at PureFlix.com
PureFlix is thrilled with the success of "Until Forever" thus far. We pray that it continues to touch hearts and inspire. We extend our congratulations to Michael Linn and his cast and crew for all of their awards and nominations, and we can't wait to see how God uses this incredible story moving forward. We're excited to announce that "Until Forever" is available to the public via our streaming service, PureFlix.com, where you can also find other inspiring Christian movies. For the opportunity to stream this award winning title and find out what earned "Until Forever" an Audience Choice Award, visit PureFlix.com and sign-up for a free month trial.
Read Also: Until Forever Movie Trivia: Movies Based Upon True Stories