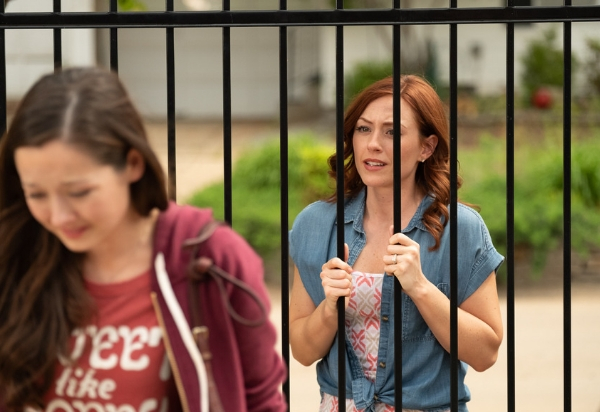 Leave a Comment
Updated on June 3, 2019 by

Billy Hallowell
"Unplanned," the inspiring movie about Abby Johnson's stunning evolution from one of Planned Parenthood's youngest clinic directors to one of the most outspoken pro-life speakers in America, scored a major win at the KLOVE Fan Awards on Sunday night.
The transformative film won the award for Film and Television Impact, a unique category at the KLOVE Fan Awards, which mostly focuses on Christian music honors.
The award show was held at the historic Grand Ole Opry House in Nashville, Tennessee.
READ ALSO: Doctor Who Performed 1,200 Abortions Reveals What Stopped Him
As Pure Flix Insider previously reported, "Unplanned" was one of three Pure Flix movies nominated this year in the category of Film and Television Impact. "Indivisible" and "Unbroken: Path to Redemption" were also contenders.
In the Book Impact Award category, Kathie Lee Gifford and Rabbi Jason Sobel won for their project, "The Rock, the Road, and the Rabbi: My Journey into the Heart of Scriptural Faith and the Land Where It All Began."
On the music side, some familiar faces took home big honors. Lauren Daigle won Artist of the Year and Female Artist of the Year, with Danny Gokey winning for Male Artist of the Year and for KING & COUNTRY taking home honors for Group of the Year and Song of the Year for the hit "God Only Knows.
READ ALSO: Christian Singer Lauren Daigle Just Shocked the Music World
As for "Unplanned," this important win comes after the film garnered a great deal of national attention earlier this year, with Johnson's personal story of transformation offering audiences a journey of true hope, faith, and redemption.
Listen to Johnson discuss "Unplanned" and her story below:
The pro-life stories to emerge from "Unplanned" have been quite powerful. From touching cast stories to reports that the film encouraged clinic workers to leave their jobs, "Unplanned" has had an immeasurable impact.
Take a moment to also listen to Dr. Anthony Levatino, a gynecologist who performed around 1,200 first and second trimester abortions early in his career before a change-of-heart led him to become an outspoken pro-life advocate.
Levatino plays an abortion doctor in "Unplanned." Here's his story: