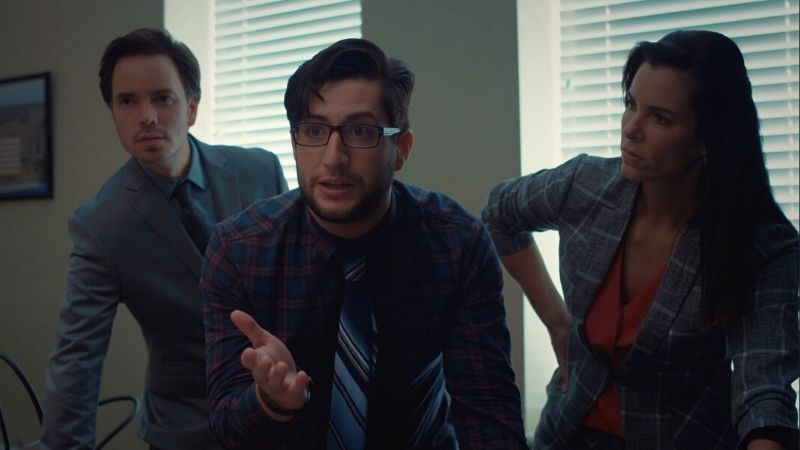 Life is short, but sometimes we forget this undeniable reality. It's so easy to just "live" that we might neglect to exist intentionally...and with meaning.
This is the theme we see embedded in the fifth episode of season two of "The Encounter." In this episode, titled, "Numbered," we meet Bella Sharp, a newly minted bank CEO who finds herself facing the biggest moment of her career.
WATCH: Stream Season Two of 'The Encounter' Right Now on PureFlix.com
But amid Bella's excitement, she loses touch with what really matters, and her journey teaches us all some powerful lessons about life, love and true purpose.
Let's dive right in by listening to (and reading) this devotion:
Life Is Short
"Our time on earth is brief; the number of our days is already decided by you." This verse from Job 14:5 reminds us that our lives are anything but endless.
This is a reality we see in "The Encounter" and in other places in scripture as well. James 4:14 (NIV) reads, "Why, you do not even know what will happen tomorrow. What is your life? You are a mist that appears for a little while and then vanishes."
READ ALSO: Why God Sometimes Says 'No' To Our Prayers
Many people live their lives as though there's no end in sight, seeking earthly treasures while ignoring eternal truths. This is a trap we can all easily slip into.
But "The Encounter" reminds us that we must each pause and consider truth, intentionality, and what really matters. After all, life on Earth is but a "vapor," and our actions and trajectory should reflect this basic reality.
Our Priorities Matter
We see Bella putting her own successes above her daughter, Andie. As Andie prepares to graduate high school, Bella is more excited about her own professional achievements than she is her daughter's big life moment.
In fact, Bella even considers missing graduation entirely.
"You never manage to make it to any of my other major life events," Andie tells her mom. "So, I wouldn't want you to break a streak."
Later in the episode, "The Man" (Jesus) confronts Bella, proclaiming that her job means more to her than anything, including her daughter. It's a sobering and convicting moment for us all, as we consider what we might be placing above our loved ones — and God.
READ ALSO: 5 Faithful Tips On How To Pray To God
Are there times in your life when you misplace your priorities? I know this is something I've personally struggled with — and it's something we see Bella grappling with as well.
Sometimes, we overlook what really matters in exchange for temporary things. Perhaps it's worth pausing to pray for discernment in this arena, depending on where you fall.
Gaining the World Means Nothing
Jesus asks Bella another question that should convict us all: "What does it profit you to gain the whole world and lose your immortal soul?"
This is a question the Bible poses to us, as Christ calls people to die to themselves and follow him. In the end, money and success seem so important, but it's God's standards, love and plan that should trump anything else.
Losing our soul for the sake of money, fame and success simply isn't worth it.
Put Your Trust in God
Bella's struggle to find balance brings her to a place where she must decide if she will trust in God. It's the same decision we are all forced to make in our lives: will we follow our own whims — or God's standards. And, will we trust Him to guide us no matter what?
God promises to sustain us, and it is through trust that we can find solace in that reality. We see this with another character named Seth, who finds himself afraid to tell his family that he believes the scriptures. Jesus, though, tells him he needs to make a choice.
READ ALSO: 10 Bible Verses To Help You Battle Fear And Anxiety
Seth's journey is relatable, as some people are afraid to speak up for truth. But, gaining the world means nothing, and failing to trust only hampers our ability to be relational with God.