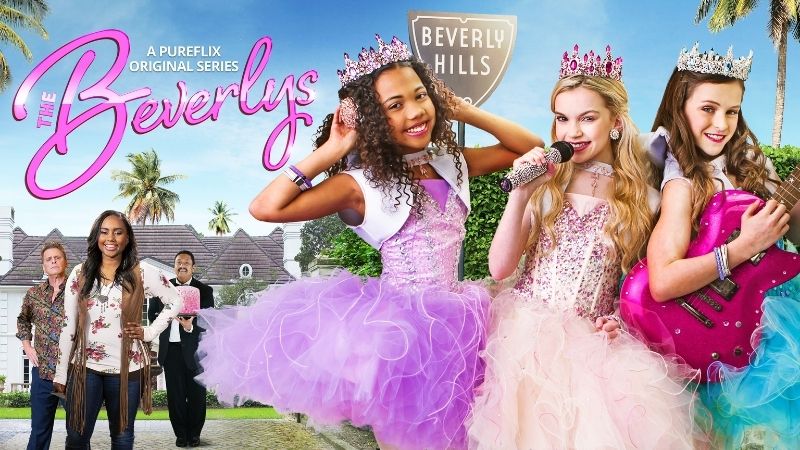 Attention parents! Did you know it's the one-year anniversary of "The Beverlys," a Pure Flix original comedy series that centers on three gifted orphans who are discovered by record producer Tommy Beverly? The girls and their manager, Jamie (played by singer Jamie Grace), are in for a roller coaster of laughs and adventure.
WATCH: STREAM 'THE BEVERLYS' ON PURE FLIX RIGHT NOW
And as we celebrate this powerful and entertaining series, we want to remind you of something essential: Pure Flix has made a promise to our viewers and ourselves to ensure the content we make and share has a biblical worldview. That's why we create and stream shows and films that anyone and everyone can watch, worry-free.
And "The Beverlys" is no exception, with the show offering kids some truly powerful and valuable life lessons. Now, let's explore this exciting series.
"The Beverlys" Background
Evelyn Preston and Zenobia Groves — creators of "The Beverlys" — spent their childhood years working in front of the cameras in Hollywood. But the sisters, who are now mothers, have been working behind the scenes, releasing a show they believe will have a major impact on kids' faith.
"'The Beverlys' shows that you can be perfectly imperfect," Evelyn told PureFlix.com's "Pure Talk" last year. She went on to proclaim that "God is perfect" and that people can get through anything with His help and guidance.
"That's the message we show in every episode," Evelyn added.
Watch the sisters reveal details about "The Beverlys":
As it turns out, the sisters pulled from their own experience when it came to crafting the characters' backgrounds and life stories.
"Our mother runs a foster care home," Zenobia said, noting that she and Evelyn saw foster children coming through their home throughout their lives. "They're coming in abused, they're coming in broken."
WATCH: GET A FREE PURE FLIX TRIAL TO STREAM 'THE BEVERLYS' TODAY
This experience led the sisters to want to help those in need, with "The Beverlys" crafting a plot around the experiences of three talented foster kids. There's a biblical lesson in every episode, with the sisters aiming to encourage young viewers to become more interested in the Bible.
They're hoping that the show will help instill values in all kids, while also speaking to those foster kids who might not get the chance to see other shows that represent their life and struggles.
"It really gave us a heart just to help people," Evelyn said. "We were able to see firsthand what [foster kids] were going through."
Now, let's meet the cast of "The Beverlys."
Meet Raya Sunshine Mullan (Gabby)
Raya Sunshine Mullan, who plays an orphaned young girl named Gabby in "The Beverlys," described her character in an interview with Pure Flix as "sassy," fun and spirited.
"She has a bit of an attitude, but she does warm up in some scenes," Mullan said. "We're actually very similar. She's always dancing and having fun and doing her own thing. We're very similar in that way."
Watch Mullan discuss her character:
Meet Actress Mia Damico (Kayla)
Actress Mia Damico, who plays Kayla in "The Beverlys," believes that the show encourages kids and adults alike to realize that "God is fun to talk about" and experience.
"I hope [viewers] take away that God, through all of the hard times that you're going through, He'll always be there for you no matter what and He'll never leave your side," she said during an appearance last year on "Pure Talk." "["The Beverlys"] shows you that God will be with you."
The young actress said her character Kayla is "really goofy," crazy, a little weird and funny.
"When I opened the script, I knew that that character was for me, because I'm all of those things," she quipped.
Damico also revealed some of the fun, on-set details, noting that she and her cast mates had a blast filming the series. In particular, she had a great time with co-star Jamie Grace. Watch her share more:
Meet Brie Duplechain (Ella)
Brie Duplechain, who plays Ella in "The Beverlys," also shared some of the on-set antics and fun that unfolded during filming. Plus, she dove into her hobbies, and so much more.
Meet Bree:
Watch "The Beverlys" right now with your kids! They will see truly positive role models who exhibit biblical and moral values! Grab a free trial to watch the show — among thousands of other faith and family-friendly programs and movies — today.