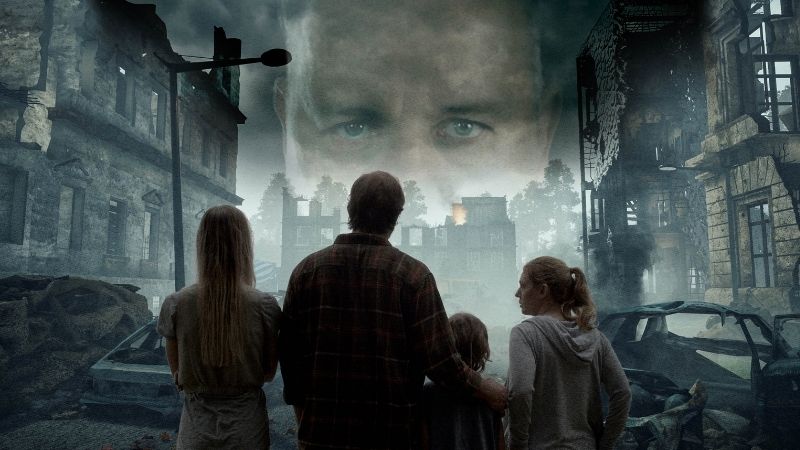 It's the Seventh Year of the Tribulation, and the world is in ruins. Christianity has all but disappeared, except for small bands of believers who are hiding, surviving — and waiting for the Second Coming.
That's the synopsis for "The Dark," a new end-times series that is now streaming on Pure Flix. The show, which dives deep into biblical themes, stars Kevin Sizemore (Pastor Peter Braxton), Kelly Bartram (Jennifer), and Jessica Bell (Adrienne Worth), among others.
WATCH: STREAM 'THE DARK' ON PURE FLIX! NOT A MEMBER? GRAB A FREE TRIAL TODAY!
Sizemore recently appeared on "The Pure Flix Podcast" to explain the plot of "The Dark, his experience filming and his journey into Hollywood. Listen to all he had to say:
"It's about the Tribulation. We're in chaos. The United States is like a third world country ... no electricity, medicines, very much on a limited supply with food," the actor said of the dire scenario presented in "The Dark." "And Christianity's been pretty much wiped off the face of the Earth."
In addition to all of that chaos, Sizemore said his character has lost his wife and can't find his son, as he and others are hiding out in a church in the middle of the woods. Soon, though, they start to embark on a quest that changes everything.
"It's intense — very intense," he said. "People are just going to eat this up."
Sizemore said that filming the end-times show allowed the cast to place themselves in a fascinating position — one in which they were forced to imagine themselves facing the unthinkable.
"If it were the end of times, what would you do?" Sizemore said, noting that the actors had to ask themselves this core question as they portrayed the characters in "The Dark."
Sizemore also dove into broader topics like his career in Hollywood, noting that he once wanted to be a musician, but realized that acting was his true calling.
READ ALSO: 11 CHRISTIAN MOVIES ABOUT THE END TIMES
The actor has learned many lessons in Hollywood, bestowing some of the wisdom and perspective he has picked up along the way.
"Don't listen to everyone and don't take everything so serious," he said. "In today's age, the number one thing people want to do is keep you down."
Be sure to watch Sizemore in "The Dark," which is now streaming on Pure Flix.