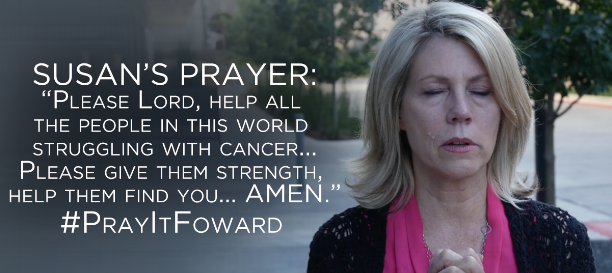 Just three days ago we invited you to join our #PrayItForward video campaign by posting your prayers for cancer patients, families, and caretakers on Facebook. We are humbled and grateful as we continue to watch heartfelt petitions unfold. Thank you for joining us in this incredible campaign! We are confident that God is an active participant, listening to each and every prayer posted.
Here are just some of the profound prayers you've shared thus far:
Stephen Anthony Bailey who plays Michael Boyum shares his story of loved ones he lost from cancer and prays for those dealing with cancer now. Here's his #prayitforward video:
So many were also inspired by Ginger Westmoreland Christopher who joined in and shared her prayers here.
Greg Gudorf, CEO, Pure Flix has taken the invitation and prays for his father and others in the healing process with his #PrayItForward video.
A Prayer Movement For Cancer
#PrayItForward was inspired by the Pure Flix exclusive release of the movie, "Until Forever," which has experienced an outstanding reception on our platform, as well as winning national acclaim. "Until Forever" follows the true and captivating story of young Michael Boyum, who was diagnosed with a rare form of Leukemia while falling in love with Michelle Larson. Throughout the film, Michael's incredible faith and strong prayer life carry him and his family through his illness.
Michael Boyum's legacy of faith lives on in this campaign as we join our prayers for those impacted by cancer. We believe that prayer is the most important conversation of the day, and we should take our thoughts, joys, worries, and struggles to God before anyone else.
To learn more about the #PrayItForward campaign, watch this video of PureFlix.com founder and actor, David A.R. White, praying for those affected by cancer. We invite you to follow his lead and invite fellow Christians, leaders, and fans (that's you), to pray it forward.
You can Still Join Us
If you have not had a chance to post your prayer, it's not too late to join the campaign. Post your prayer video, and make a difference in the hearts and lives of cancer patients, caretakers, and families.
To participate:
1. Record Your Prayer.
Record your own quick 1 minute prayer video using your smartphone or computer. At the end of your video, you may want to call upon a friend to #PrayItForward.
2. Post Your Video.
Post your video to Facebook and include the tags, #prayitfoward and #pureflix. This will associate your prayer with the global online conversation. Also "tag" your friend using the "@" symbol and then type in their name in the body of your Facebook post. You can also send a link to your video in a message on our Facebook page or post a link to your Facebook video in the comments below on this blog.
Spread the prayer movement and tweet your video link on Twitter:
I believe prayer changes things, I am joining with #PureFlix to #prayitforward!

3. Write Your Prayer (If you can't record it).
If you don't have a way to film your prayer, you can still participate! Write a prayer in the comments below and let a friend or fellow prayer partner know you've commented here. Email them this article by copying and pasting this link Insider.PureFlix.com/PrayItForward into the email, so they can also add a prayer to the #prayitforward movement.
4. Call Others To Pray With Us.
Invite your friends to make their own videos and tag #prayitfoward and #pureflix. To invite them, share this article or send a personal email with the copy below.