After the release of "October Baby" on PureFlix.com, Pure Flix Insider spoke to director and producer Andy Erwin and co-star Jason Burkey about the film's background, impact, and the world of Christian filmmaking.
In the midst of a successful career producing music videos, brothers Jon and Andy Erwin felt the time had come to venture into feature filmmaking. It was Jon who was inspired by the life story of Gianna Jessen, a survivor of a late term saline abortion who now suffers from cerebral palsy. Andy says,
"We put that into the context of a coming of age love story about this fictional character, Hannah, who finds out that she's adopted and the survivor of an abortion, and goes to find her birth mother. And as the story unfolded, it became something really beautiful and poetic. It was never really a story we set out to tell at first, it just kind of found us, and we were honored to be able to tell it."
Co-star Jason Burkey, who plays Hannah's childhood best friend, also named Jason, told Pure Flix Insider, "I was a bit clueless when I first read the script because I had no idea, like a lot of people, that there was this group of people in society that were abortion survivors. So that kind of opened up my eyes to this whole group of people."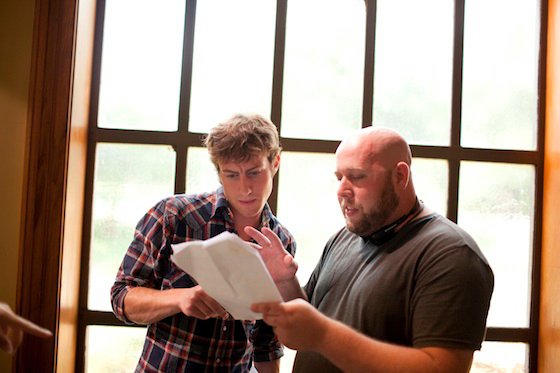 Director Andy Erwin and Actor Jason Burkey on the set of "October Baby"
Small Film, Big Impact
After its theatrical release in 2012, "October Baby" received some scathing reviews from pro-choice advocates, yet was then, and has remained, popular. Andy explains,
"We didn't expect the controversy to go to the front page of the New York Times, we never set out to make a controversial film, but because it was so approachable for an issue that normally wouldn't be, I think it was more threatening and actually ruffled more feathers. On the other side, the people that I talked to that were really encouraging were the people that were pro-choice that at the end of it said, 'I've never thought of it in that context. You've given me a lot to think about.' As a filmmaker, your main goal is to ask the right questions and cause people to think, and I think 'October Baby' definitely does that."
To say that "October Baby" resonated with audiences would be an understatement. The movie was released the same weekend as "The Hunger Games," but still ended up number 8 in the box office, earning more than three times its budget and being named by Entertainment Weekly as one of the most impressive box office performances of 2012.
Read Also: How to Forgive Yourself So You Can Forgive Others
Movie Making Magic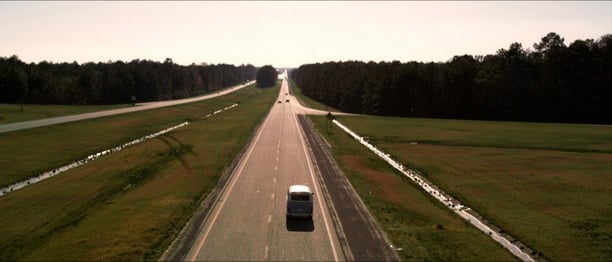 Andy and Jason shared a peek behind the scenes of "October Baby" with Pure Flix Insider, telling stories that reveal just how impressive "the little film that could," as Andy calls it, really is.
"October Baby was definitely a community effort because we had zero budget," reveals Andy. "We had a fraction of what we should have had to do a movie. It was just all we could afford. And it was definitely just interesting to see how to pull it off with just a shoestring budget and kind of smoke and mirrors, hopefully in a way that the audience can't tell."
Jason shared stories of late nights filming and how the cast laughed together at things that only a lack of sleep could make funny. Laughing, Jason recalled what it was like to film shots like those in the road trip scene:
"Driving around in that Volkswagen van, we were all crammed in there. Our boom operator, who's running sound, is laying down on the floor of the van and our feet are on him, and we were on this trailer with the van on top of that, and so the crew was strapped in all around on the trailer, all around on the outside of the van. And it starts pouring rain as we're flying down the highway, and the crew has these harnesses on, and we're packed in this small VW van, probably eight of us in there, no AC, van didn't really work, and it was a good bonding experience for sure… It was an experience [seeing that on screen], I'm like 'Little do people know, the struggle it was, crammed in that van.'"
Read Also: Transforming Heartbreak Into Healing
Filmmaking and Christianity
Andy says he'll always think fondly of "October Baby," as it was the beginning of the Erwin Brothers brand, which now includes "Mom's Night Out," and "Woodlawn." When asked about his approach to filmmaking, Andy says,
"As filmmakers that are Christians,I think being able to be free enough to not feel your Christianity as an obligation, it frees you up to really embrace your Christianity, and not feel like you need to be ashamed of it or have to kind of do your duty. The first thing we're really attracted to is a really good story. Something that has a compelling human element that really allows you to enter the story and sympathize with them. Because that's the only way you're going to reach an audience outside of the church walls, is for them to be able to empathize. We look for stories that the gospel is so much a part of the story that it's not one message moment in a film that fulfills your obligation to say it's a Christian movie - it is woven through the story so much so that if you were to pull out the gospel, the whole movie would have fallen apart."
Jason says the film's success and impact taught him an important lesson about God:
"As we were filming, I don't think my mind was even there, I was enjoying the process I wasn't even thinking about what was going to come of it. When it came out and we heard the reactions of the audience, I think that's when it hit me like, 'Oh wait. This movie is not about my involvement in it at all.' That's when the Lord was like, 'Hey, guess what? I used you as a tool to be a part of this much bigger story that is affecting way more people than you even thought about.' When I hear accounts of the healing that has come to some people who have watched this, who have mended relationships that were broken, I was just honored to be a part of something like that. I feel like God was like, 'Hey, see what I can do? Don't limit me next time.'"
Andy says that telling stories, especially through film, is an innate part of who he is: "You know, I think there doesn't have to be a duality between being a Christian and being a filmmaker. Both are equal parts of who I am.

I'm a storyteller. So was Jesus. It's in my DNA, I love to tell stories and I'm a proud Christian."
Watch "October Baby" and hundreds of other family movies for free during your one month Pure Flix trial, at PureFlix.com.
Read Also: 11 Leadership Principles From "October Baby"