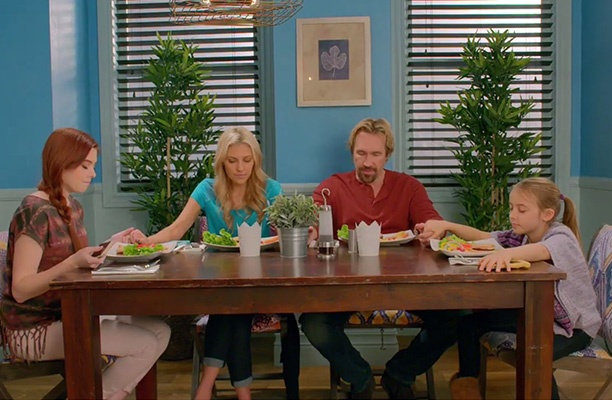 It's been a long day of work, school, and sports... the whole family is ready to sit back and enjoy some down time together when someone asks, "How about a show?"
Most can agree that watching a family TV show is a relaxing way to unwind at the end of the day. Not as easy to agree on: what to watch. (Especially when the whole family watches together.) Debating what to watch will sap the "relaxing" right out of "relaxing time." Allow us to help by comparing two current sitcom options.
First, consider "Modern Family", which debuted in 2009 on ABC. This sitcom centers around three unique (but related) families. The show has raised both high praise and deep concern from across the spectrum. Also, let's look at "Hitting the Breaks", the new PureFlix.com original family sitcom. This show, billed as the first Christian sitcom, is already gaining traction for being hysterical and heartfelt. Which show is better for your family? We have a few thoughts to help you decide.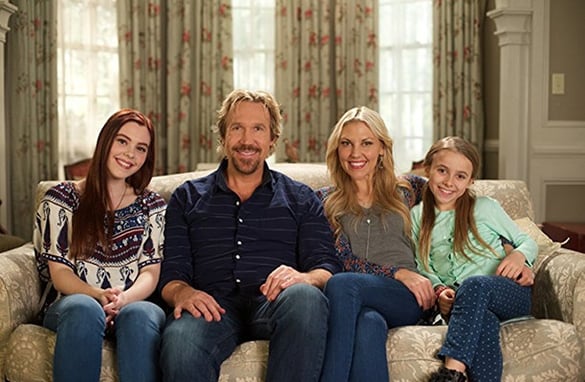 Are you comfortable with sexual innuendo and language?
While "Modern Family's" brand of humor can elicit laughs, it's quite questionable if the show is appropriate for family viewing. Mild profanity and sexual double entendres abound in every episode. Sadly, between cringing at the language and innuendo (and praying it sailed over the kids' heads), all hopes of relaxing fade. Have you been there? If so, you know what we mean – you tense up and give the sideways glance to your children, wondering if they got the joke. (And then endure awkward laughter if they did.)
The humor and dialogue in "Hitting the Breaks" provide a breath of fresh air. We watch TV to be entertained, but we can't avoid absorbing the messages portrayed in the shows we watch. "Hitting the Breaks" offers its own "modern family," but with traditional values. Its brand of humor and lighthearted antics make us laugh, not squirm.
Is this your preferred way to address mature, sensitive issues?
"Modern Family", touted as a family comedy, is actually anchored in mature themes. These include cohabitation, homosexuality, and under-age partying. The show is riddled with stereotypes and begs an important question: Is a network TV sitcom how you want to introduce these topics with your family?
"Hitting the Breaks", also a family comedy, delivers a generous serving of humor and heart. Here, the depiction of the family unit remains traditional, with love, faith, and life lessons along the way. The town's wide array of eccentric characters offers entertaining story lines safe for the whole family. (No need to gently discuss awkward, mature issues during commercial breaks.)
Read Also: Christian Comedians Who Will Make You Laugh More Right Now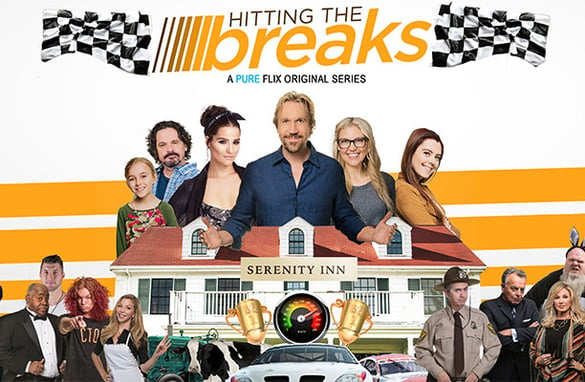 Do you want to deal with commercials?
Speaking of commercial breaks… Being a network show, watching "Modern Family" means watching commercials. (Or desperately fast-forwarding through them.) As iffy as "Modern Family's" content can be, any parent knows commercials can be just as bad. Sadly, this isn't just a "Modern Family" issue. It has become the complaint of countless parents, tired of bad commercials tucked within shows they assumed were safe.
"Hitting the Breaks", on the other hand, is exclusively available on PureFlix.com. This faith-based streaming service provides family-friendly content, free of commercials. Not only are the shows free from nerve-wracking surprises, there's also no risk of questionable commercials. (Or any commercials, for that matter!) How refreshing to know exactly what you're introducing to your family and your home.
You can take back control and relax, knowing you're in the driver's seat with "Hitting the Breaks".
When choosing between shows like "Modern Family" and "Hitting the Breaks", consider your family's values. In the end, there's really no choice, especially when you look at the messages being introduced to your family.
Ready for a family show that offers all the humor and heart without the headache? Watch "Hitting the Breaks" on PureFlix.com now!