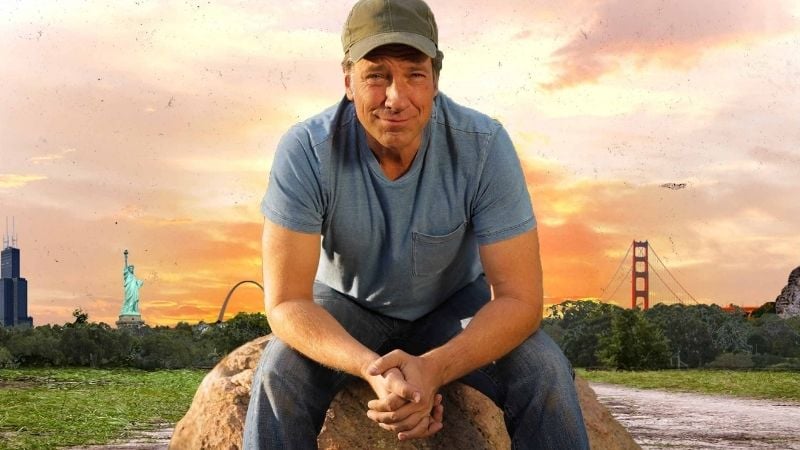 Mike Rowe is known for a plethora of accomplishments. He's an author, broadcaster, TV host, and narrator — and he's perhaps most celebrated for his unique, introspective and thought-provoking perspective on contemporary issues.
READ ALSO: MIKE ROWE AND HIS MOTHER PEGGY DISCUSS FAME AND FAITH
Rowe, whose show "Somebody's Gotta Do It" is now streaming on Pure Flix, has often provided a unique lens for people to see not only issues but also unique careers and experiences they might not have otherwise considered.
Through shows like "Somebody's Gotta Do It," Rowe meets innovators, do-gooders, entrepreneurs, collectors, and fanatics — people who march to the beat of their own drums. He then shows viewers why these individuals have chosen their uncommon careers (watch season one here).
After watching Rowe on shows like "Somebody's Gotta Do It" and "Dirty Jobs" one might wonder what drives his curiosity and what has led him on such a distinctive path. Luckily, we have some answers for you!
Rowe recently told Pure Flix about his passion for unique careers, noting that he always loved the idea of "having lots of little jobs." The TV host said he initially planned to follow in his grandfather's footsteps, but that those plans were eventually thwarted.
READ ALSO: MIKE ROWE'S NO-NONSENSE TAKE ON DIVISION AND MODERN CULTURE
"By the time he was 30, he was a plumber," Rowe said. "He's a guy who could build a house without a blueprint."
Watch Rowe discuss his early life and passion for his current work:
But Rowe said he came to an unfortunate conclusion: he wasn't built with the same skillset.
"It took a while for me to realize that the handy gene is recessive and the many gifts that were bestowed upon him I simply didn't get," he explained. "I had kind of an existential crisis when I was 17 and I realized I would not be following in his footsteps. I was not going to be a tradesman."
Rowe went on to college and explored a variety of professions, later landing one of the most eclectic and fascinating broadcasting and media careers around. Today, he works through his Mike Rowe WORKS Foundation to inspire — and offers scholarships — to those seeking to enter trade professions.
WATCH: STREAM 'SOMEBODY'S GOTTA DO IT' RIGHT NOW ON PURE FLIX
While college is often pushed on young people, Rowe takes a different view: college is good for some, but not everyone.
"The best path for the most people isn't the most expensive path," he said, offering another important tidbit worth considering: "Just because you love something doesn't mean you're going to be good at it. Just because you're indifferent to something doesn't mean you might not have the requisite skill to succeed."
Watch Rowe in action on "Somebody's Gotta Do It." Season one is streaming right now on Pure Flix. Not a member? No problem! Grab a free trial to stream thousands of faith and family-friendly movies, TV shows and original series.