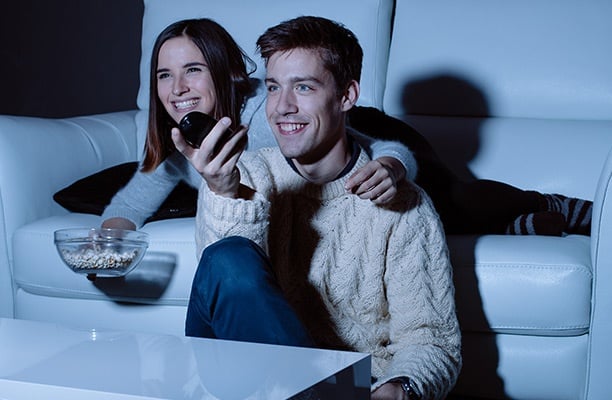 Whether you're married or dating that special someone, having a regular date night helps a relationship thrive. Life can be so hectic and busy. Creating fun, relaxing time for each other that doesn't include work, chores or childcare helps couples reconnect.
After a long week, cozying up to a movie with your special someone is just what the doctor ordered. Scrolling through the channel guide looking for a little light-hearted comedy or romance, can be aggravating. The mainstream movie streaming options are even worse. Laughter without cringing doesn't seem to be available anywhere.
Clean Comedy
Mainstream comedy seems to get more and more inappropriate. Comedians these days find humor in using offensive language and making "jokes" about sex, violence or even racism. If you and your partner want all the laughs of a comedy show, without the embarrassment and offensive "jokes" - these three choices may be just what you're looking for:
"Date Night Comedy Series"
If laughter is the best medicine, this series should require a prescription. Ted Cunningham is a pastor and a comedian. He uses humor to explore putting fun back into your marriage. Plan on some lightbulb moments. John Branyan shares real-life stories starring his own crazy antics. If you think you know the story of the "Three Little Pigs," think again! You won't be able to resist sharing Paul Harris' delivery style and dating stories with friends. Jonnie W. is a comedian who keeps you on your toes. Whether he's talking about yoga mats or Chick-fil-A, nothing is safe from him.
Not only does this series steer clear of inappropriate content, it brings in uplifting messages about marriage, faith and family.
Watch Now: "Date Night Comedy Series"
"Hitting the Breaks"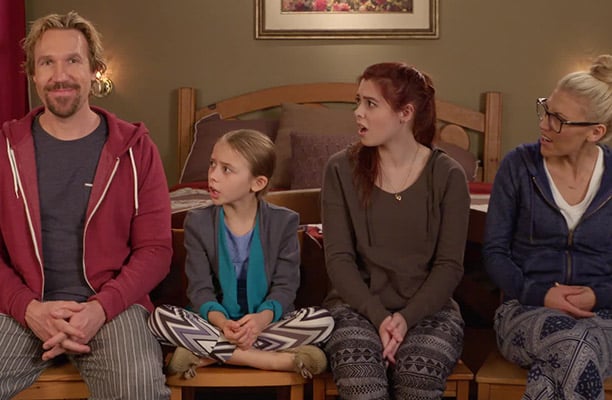 When Randy Wilcox (David A.R. White) inherits The Serenity Inn, the ex-race car driver relocates his family from Atlanta to a small town in Colorado. The inn, left to him by his parents, is a struggling bed and breakfast. Running a bed and breakfast is new for Randy. While worrying about his future, he tries to keep up with all it entails. He is baffled by small town culture of illogical rules and an assortment of eccentric locals.
Get hooked on this clean series as Randy hilariously tries to juggle his family and his new business alongside some quirky characters!
Watch Now: "Hitting the Breaks"
"Pure Flix Comedy All Stars Special"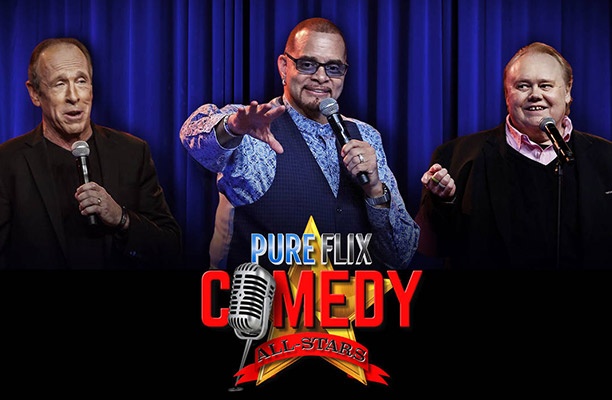 Clean comedy with celebrity hosts Jeff Allen, Louie Anderson, and the one-and-only Sinbad will have you in tears of laughter. Thirty top talent comedians from around the United States and beyond, bring family-friendly stand-up comedy to television. Not only will this bring you and your loved one laughter for date night, but it will also open your eyes to comedians who are keeping clean, faith-based comedy alive. You might even find a new favorite!
Watch Now: "Pure Flix Comedy All Stars Special"
Christian Romance Movie Guide
In the mood for more love and laughter? Check out these five romantic comedies for date night.
PureFlix.com makes it easy to find clean, faith-based movies to stream from the comfort of your home. For more date night ideas, download the Christian Romance Movie Guide and see how many fun, creative choices there are for future date nights, too. Take the guesswork out of choosing a movie for date night — with PureFlix.com, you can feel confident that everything available is a safe option.