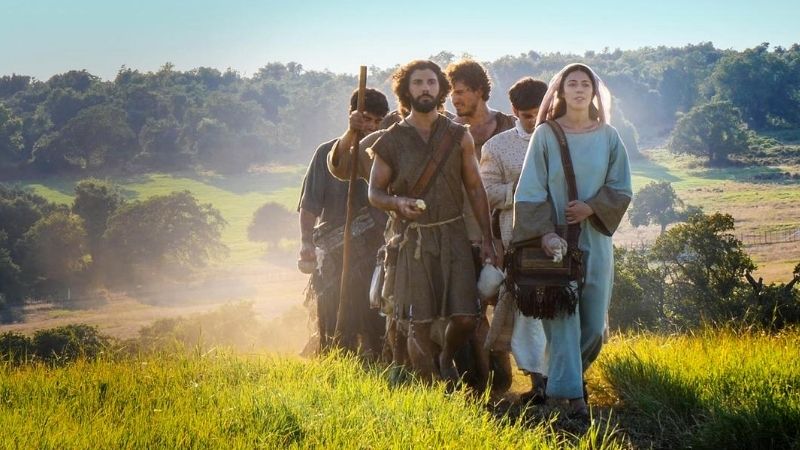 Dallas Jenkins, director of hit TV show "The Chosen" — the first-ever multi-season series about the life of Christ — recently revealed future plans for the series and explored its origins during an appearance on "The Pure Flix Podcast."
Jenkins discussed the show's monumental, record-breaking crowdfunding campaign, and the current efforts to encourage fans to "pay it forward" and fund season two.
READ ALSO: WATCH 'THE CHOSEN' ON PURE FLIX — GRAB A FREE TRIAL!
"The Chosen," which is available to stream right now on Pure Flix, is the most crowdfunded media project in history, raking in over $20 million in support — and counting.
And if you're a fan, you're in luck, as Jenkins is planning a 7-season run. Listen to the director speak about the future of the show on "The Pure Flix Podcast," one of the best Christian podcasts around:
"We've actually made the decision to give ourselves a framework and number of seasons," he said, noting that he and his team are preparing to plan the series details for a seven-season run. "We feel like it's enough for us to really tell the story accurately. Season seven is going to — spoiler alert — take place after Christ's crucifixion."
Jenkins said season six will spend its entirety on the crucifixion and the fact that Jesus died for us, with seasons three through five helping build the gospel story to that point.
The film and TV director also spoke about the challenges and processes through which he and "The Chosen" team approach biblical characters and stories.
READ ALSO: 'UNLIKE ANYTHING YOU'VE SEEN': A POWERFUL SHOW ABOUT JESUS' LIFE
"You can really take your time to dig into the stories and the characters of the gospels in a way that you can't do in a movie format," he said of the TV series. "When we're doing stories form the gospels and when we're capturing verses from the gospels, we don't change anything. We're not trying to rewrite anything."
Jenkins said he and the team are "very careful" when they tell backstories of these real-life Bible characters, sticking closely to historical and cultural norms — and he said "plausibility" is what drives much of the decision-making.
READ ALSO: 5 MEN WHO ARE BIBLE SUPERHEROES WITH INCREDIBLE STRENGTH
The team, according to Jenkins, asks, "Is this plausible. Is it plausible from a historical standpoint? Is it plausible from a cultural standpoint? And is it plausible within, not only the storyline of what could have happened to these people, but does it fit within the character and intentions of scripture and of Jesus?"
In the end, Jenkins believes God has prepared him to create "The Chosen," and he's grateful for the amazing reaction from the audience. Watch "The Chosen" on Pure Flix and be sure to pay-it-forward by supporting the series.