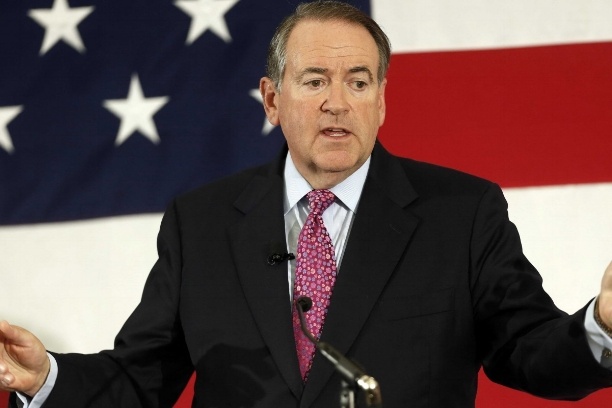 According to Former Arkansas Governor Mike Huckabee may have "suspended" his presidential run, but he certainly succeeded in spreading the word about protecting our religious liberties, with a little help from Pure Flix.
Earlier this week, Huckabee provided his supporters in Iowa with free, pre-release screenings of Pure Flix's "God's Not Dead 2" in an effort to bring the central tenets of his campaign to light.
The Christian Post, the former Arkansas governor was "hoping the press and caucus goers in Des Moines will be inspired and touched by the message of the movie."
Huckabee supporters were given the opportunity to see the new faith-based film from Pure Flix two months before it comes to theaters April 1. Huckabee plays a television pundit in the movie, whose central theme is the fight to preserve religious liberties and free speech.
Read Also: "God's Not Dead 2" Billboard Rejected Mirroring the Movie's Story
"It was a real honor and thrill to film a scene for the film," Huckabee told The Christian Post. "A few years ago, such a plot would seem like fiction, but in light of how Christianity is being criminalized in America, this film depicts life in America for those of faith."
Huckabee noted in a press release that he timed the first screening of the movie to coincide with the eve of the Iowa caucuses because the themes of religious liberties and the challenges against them were central in his campaign.
The first of Huckabee's two pre-screenings was held Sunday night...it "sold out" in 24 hours.
Huckabee is a true believer when it comes to people's religious liberties and proudly states on his website, "I will never apologize for my faith In Jesus Christ."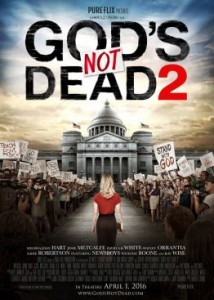 "The breakout film 'God's Not Dead' struck a nerve with America depicting how believers are marginalized in the classroom, and 'God's Not Dead 2' is virtually ripped from the day's headlines by showing how people of faith are now being criminalized and taken to the courtroom," Huckabee added in a statement obtained by The Christian Post. "A few years ago, such a film would be fiction that could someday be true; now, 'God's Not Dead 2' is the story that has become true for believers across the nation. 'God's Not Dead 2' is a wake-up call."
Read Also: "God's Not Dead 2" Receives 4 Star Rating From Faith Driven Consumer
Following the movie, Huckabee wrote on his comment card, "Loved it...Great inspiration!"
The trailer for "God's Not Dead 2" is currently streaming on PureFlix.com and is among the most popular videos on the platform, based on the number of times it has viewed by subscribers.
Besides Huckabee, the film features another politician; former senator and presidential candidate Fred Thompson, who passed away late last year. He is joined by Melissa Joan Hart, Jesse Metcalfe ("Dallas"), Ernie Hudson ("Ghostbusters"), Robin Givens ("Head of The Class"), Sadie Robertson ("Duck Dynasty") and Pure Flix exec/actor David A.R. White, who also appeared in the original "God's Not Dead."
Not a member of the Pure Flix Digital Streaming Service yet?
and start enjoying thousands of Christian and family-friendly originals, movies, TV shows, and educational programming online anytime, from virtually anywhere, on any device, free for a month.