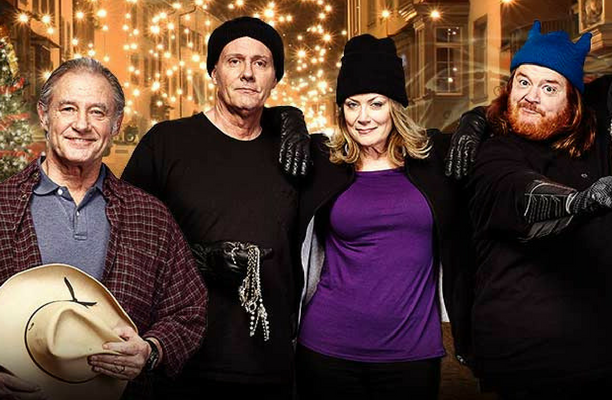 If you're looking for a fun family movie that will leave you and your kids smiling, look no further than "Heaven Bound." This quirky story made us laugh out loud, and we know you'll love it too. "Heaven Bound" producers Adam Drake and Torry Martin revealed in recent interviews with Pure Flix insider that working with friends was their secret to creating a comedy that keeps you laughing.
Adam and Torry became friends several years ago, a meeting that Torry considered an answer to prayer. He explained to Pure Flix Insider:
One of the things I do is tithe the first ten minutes of every day to promoting anyone other than myself. And it's probably one of the smartest things I've ever done for my career because you reap what you sow.
Well, one day I had absolutely no one to tithe my time to, but that day I had a dentist appointment. So as I was driving to the dentist I prayed, "Father help the dentist not to hurt me, and show me who you want me to tithe my time to today.
I got to my dentist's office, and as the assistant was numbing my mouth she said, "Torry, I have a friend of mine who goes to our church who has a son who did a film course in California, and needs some help growing his career in the faith based film industry. Can you help him?" And I had just prayed for that on my way there!
So she called Adam Drake, who called me, and we started talking. From that we did a short film together and I saw how great and talented he was.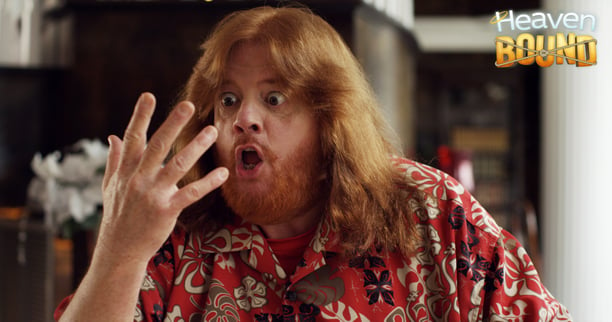 Torry Martin as Moochie in "Heaven Bound"
The two men became fast friends, and Torry said he referred Adam for many other projects before they worked together on "Heaven Bound." But God had more miracles in store for this funny Christian movie, starting with the setting. Torry explained that when he wrote the "Heaven Bound" script, he envisioned the story in a house with three secret rooms and a movie room, a vision he knew was unusual and specific. With a smile, he told Pure Flix Insider:
Adam and I were working on a short film together and he said, "I want you to come meet my parents." And I just thought oh man, I'm just so socially awkward I didn't want to meet his parents, because when you meet parents they expect you to act like a grownup!
Well, he finally coerced me to go over and meet his parents, and I walked into that house and got a tour, and it had three secret rooms and a hidden movie theater, and I was just awestruck. I should have been on my best social graces, but I was so amazed, I just said, "Well I have this screenplay…" And they agreed to let their house be used to shoot the film.
There were many more steps between that conversation and making "Heaven Bound" a reality, and all along the way Torry made friends who helped. Adam said, "Torry knows pretty much every actor in the Christian market, so when he wrote those roles, he wrote them with specific people in mind."
Read Also: 5 Romantic Comedies for Date Night
Michael Joiner and Nancy Stafford were friends of Torry's, as well as most of the crew. Adam described the atmosphere on set as full of laughter, and attributed that to genuine friendships and a genuinely funny story. "It was a blast," he said. "I knew a lot of the crew, and a lot of us had worked together before on much more dramatic films, but in this one there was so much comedy involved that everybody had a good time, we didn't have to worry about serious moments all the time."
Torry credited his habit of tithing his time to others as the secret to developing genuine relationships with people in the faith based film industry. He explained,
As a comedian and actor we're always told to promote ourselves, get your face out there and all that stuff, and make cold calls. I just couldn't do it. I hate it, it makes me feel phony and weird. But I can talk about my fiends until I'm blue in the face! So I started thinking, what if rather than promoting myself, I promote others and trust God to promote me. And that's what happened.
Adam said that he felt comedy was a genre lacking in the Christian market, and that he saw "Heaven Bound" as "an opportunity to show that comedy and faith can go hand in hand."
But beyond a funny script, the true charm of "Heaven Bound" is less obvious. Torry explained, "Heaven Bound was made with friends."
If you haven't seen "Heaven Bound" yet, you can watch it and thousands of other family movies for free during your trial of PureFlix.com. Share your favorite moment from the movie with us in the comments below, or on Facebook or Twitter using the hashtag #HeavenBound.
Read Also: Our Favorite Christian Comedies