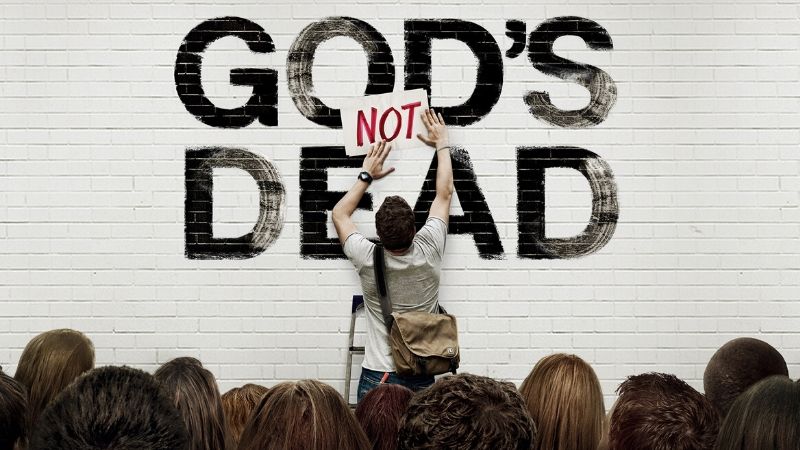 "God's Not Dead," the iconic film that stunned the world with its viral success, is now streaming on Pure Flix, giving you and your family the opportunity to enjoy a truly transformational message.
Starring actors Kevin Sorbo and David A.R. White, "God's Not Dead" is a faith-inspiring movie that offers a plethora of important lessons about how we can live out our faith in our everyday lives.
So, let's dive into some important lessons each of us can take away from "God's Not Dead" (watch the trailer here):
Sometimes, It's Necessary to Take a Stand
In "God's Not Dead," we see college student Josh Wheaton — played by actor Shane Harper — struggling after being challenged by Professor Radisson, an atheist played by actor Kevin Sorbo.
Radisson wants his students to sign a paper proclaiming that God is dead. When Josh is unable to do this due to his Christian faith, the professor essentially challenges him to a debate in front of the class. Josh boldly jumps into the mix and defends God.
WATCH: See the 'God's Not Dead' Trailer on Pure Flix
Sometimes, we need to do the same thing in our own lives — and the cost can be hefty. In Josh's case, he lost his girlfriend and risked failing all for the sake of standing by his beliefs. When the time comes, standing by our values is key.
Watch the trailer:
God's Not Dead
The second lesson is a no-brainer: God is not dead. While some, like Professor Radisson, are bent on trying to convince others that God isn't real, Christians know the truth. And the truth is: if and when those difficult moments come when taking a stand is necessary, God will guide us through.
Isaiah 41:10 (NIV) reads:
"So do not fear, for I am with you; do not be dismayed, for I am your God. I will strengthen you and help you; I will uphold you with my righteous right hand."
God Should Be Our First Priority
Our priorities matter, and God should be first in our lives. We see Josh's girlfriend repeatedly telling him to ignore Professor Radisson and not to debate him, but Josh feels called to defend God.
In the end, it comes at a great personal cost to Josh. But he knew what mattered most.
His girlfriend said, "You need to prioritize and decide who's the most important person in your life" And Josh responded, "What if it's God?" These are issues we all face at one time or another, and we have to decide if we have the faith, fortitude and character to choose as Josh did.
READ ALSO: Transformed: Atheist Astronaut's Journey To Christ In 'The Encounter'
Curveballs Are Normal in Life
We see a woman named Amy in the film who is diagnosed with cancer — a shock in the middle of a successful career. Many of us also face challenges. It's easy to lose hope, but we're reminded in John 14:27 (NIV) that God can give us peace amid uncertainty.
The verse reads:
"Peace I leave with you; my peace I give you. I do not give to you as the world gives. Do not let your hearts be troubled and do not be afraid."
In the end, God can and will give us the strength and courage to carry on.
We see many characters throughout "God's Not Dead" take a stand for God. From Josh's journey to Ayisha, a woman from a Muslim family who is kicked out after her dad finds out she's a Christian, there's no shortage of stories about sacrifice — and victory.
Watch "God's Not Dead" right now with a free trial of Pure Flix.