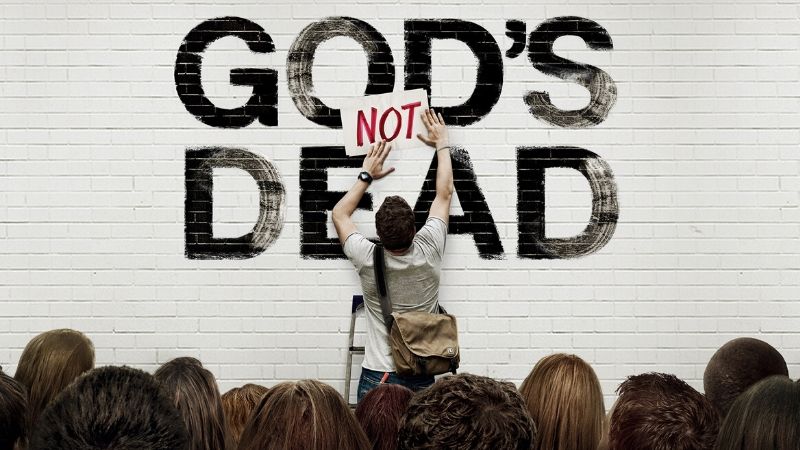 "God's Not Dead," the iconic film that stunned the world with its viral success after its 2014 theatrical release, continues to captivate audiences, offering individuals and families powerful examples of life-change, reliance and transformation.
The impact of the "God's Not Dead" films continues to reverberate in the U.S. and abroad, and this dynamic is only poised to intensify as a fourth installment in series is on the way!
So, what can you expect from the new movie? Let's explore what we know so far.
God's Not Dead 4
"God's Not Dead" star and Pure Flix co-founder David A.R. White shared some teasers in a December video posted to his Instagram page, revealing, among other things, that the film would be shot in Oklahoma.
WATHC NOW: 'GOD'S NOT DEAD: WE THE PEOPLE' EXCLUSIVELY ON PURE FLIX
"I'm very excited to share with you guys: we're doing the next installment of 'God's Not Dead,' called 'We the People,'" White said. Here's everything he had to say about "God's Not Dead 4":
Among other details, White said the upcoming movie is inspired by "It's a Wonderful Life" and "Mr. Smith Goes to Washington," two classic films. Much like the other films in the series, "God's Not Dead 4" is slated to offer us powerful examples that will guide and inspire our faith.
Now, as we prepare for a powerful, new installment, let's revisit the storylines explored in the first three movies:
Revisiting The First Three Movies
God's Not Dead
After the tragic death of his religious mother as a young boy, philosophy teacher Radisson has held a strong dislike of all things sacred. However, when a new student sets out to prove that God exists he is forced to reconsider his stance. The movie stars Kevin Sorbo and David A.R. White.
See the trailer for "God's Not Dead":
God's Not Dead 2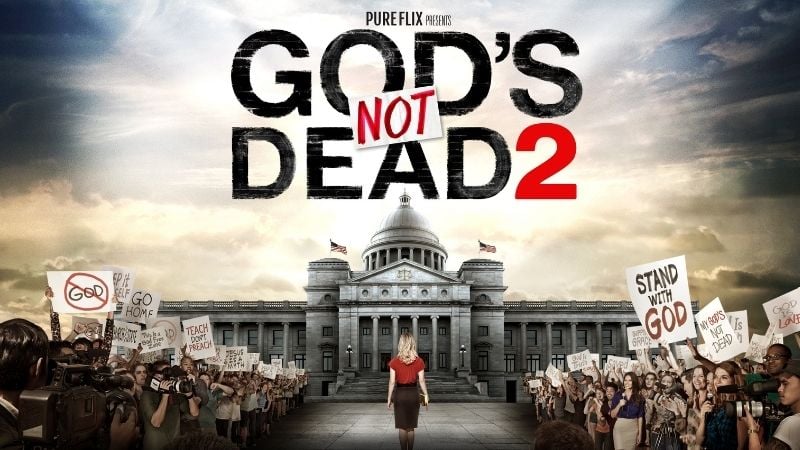 When a high school teacher is asked a question in class about Jesus, her response lands her in a battle of choice. The film, which stars Melissa Joan Hart, offers an example of what it looks like to stand by one's faith.
Watch "God's Not Dead 2" right now on Pure Flix.
God's Not Dead: A Light in Darkness
After a fire destroys St. James Church, leaders at Hadleigh University push to get the church off campus. What follows is a culture clash, with the church's pastor standing up to defend the house of worship alongside other Christians. Amid the fallout, brothers reunite, chaos ensues and love overcomes all. "God's Not Dead: A Light in Darkness" stars David A.R. White and John Corbett.
See the trailer for "God's Not Dead: A Light in Darkness" and stream the whole movie with a free trial to Pure Flix:
These "God's Not Dead" movies tell powerful stories about faith, hope and overcoming the odds — and now there's more to come with the impending release of "God's Not Dead: We the People!"
Lessons Leading Into God's Not Dead 4...
Sometimes, It's Necessary to Take a Stand
In the first installment of "God's Not Dead," we see college student Josh Wheaton — played by actor Shane Harper — struggling after being challenged by Professor Radisson, an atheist, played by actor Kevin Sorbo.
Radisson wants his students to sign a paper proclaiming that God is dead. When Josh is unable to do this due to his Christian faith, the professor essentially challenges him to a debate in front of the class. Josh boldly jumps into the mix and defends God.
Sometimes, we need to do the same thing in our own lives — and the cost can be hefty. In Josh's case, he lost his girlfriend and risked failing all for the sake of standing by his beliefs. When the time comes, standing by our values is key.
God's Not Dead
The second lesson is a no-brainer: God is not dead. While some, like Professor Radisson, are bent on trying to convince others that God isn't real, Christians know the truth. And the truth is: if and when those difficult moments come and taking a stand becomes necessary, God will guide us through.
Isaiah 41:10 (NIV) reads:
"So do not fear, for I am with you; do not be dismayed, for I am your God. I will strengthen you and help you; I will uphold you with my righteous right hand."
God Should Be Our First Priority
Our priorities matter, and God should be first in our lives. We see Josh's girlfriend repeatedly telling him to ignore Professor Radisson and not to debate him, but Josh feels called to defend God.
In the end, it comes at a great personal cost to Josh. But he knew what mattered most.
His girlfriend said, "You need to prioritize and decide who's the most important person in your life" And Josh responded, "What if it's God?" These are issues we all face at one time or another, and we have to decide if we have the faith, fortitude and character to choose as Josh did.
READ ALSO: Transformed: Atheist Astronaut's Journey To Christ In 'The Encounter'
Curveballs Are Normal in Life
We see a woman named Amy in the film who is diagnosed with cancer — a shock in the middle of a successful career. Many of us also face challenges. It's easy to lose hope, but we're reminded in John 14:27 (NIV) that God can give us peace amid uncertainty.
The verse reads:
"Peace I leave with you; my peace I give you. I do not give to you as the world gives. Do not let your hearts be troubled and do not be afraid."
In the end, God can and will give us the strength and courage to carry on.
We see many characters throughout "God's Not Dead" take a stand for God. From Josh's journey to Ayisha, a woman from a Muslim family who is kicked out after her dad finds out she's a Christian, there's no shortage of stories about sacrifice — and victory.
Watch "God's Not Dead 2" and "God's Not Dead: A Light In Darkness" right now with a free trial of Pure Flix, and stay tuned for more information about "God's Not Dead 4."