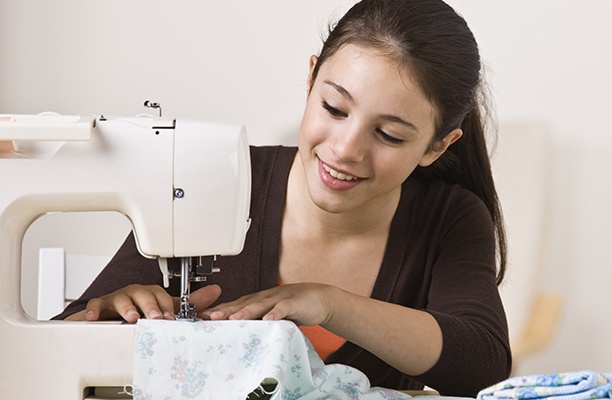 It can often be difficult to find activities that will engage and excite your teenager. This holiday season, take the opportunity to get creative. Spend time together doing things that will get your teen out of his or her room, off their phones, and participating in holiday festivities. Here are some fun projects for teens that you'll both be excited about.
Wood Slice Ornaments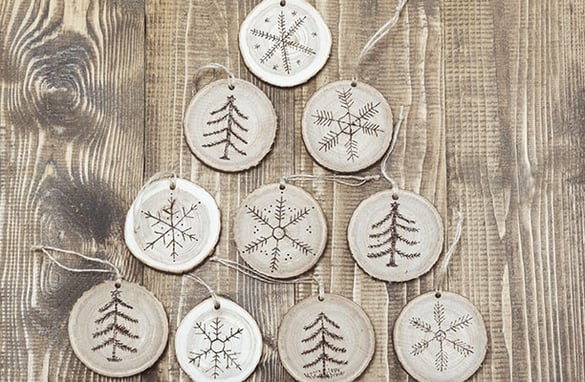 Materials:
Thin Wood Slices - pick the shape and size that you like. (Wood slices can be found in most arts and crafts stores)
Thumbtack
Eye-hook screws
Decorative string or twine
Decorating material (markers, paint, wood burning kit, or any other creative ideas!)
Optional: polyurethane (clear coat)
Use a thumbtack to create a small hole along the edge of the wood slice and then screw in the eye-hook. As simple as that, your ornament is ready for hanging. But wait! Don't forget to decorate it.
If you or your teen are handy with a wood burning kit, this will provide a great opportunity to burn in a Christmas design. You can also paint a design on the wood, or even draw with a permanent marker. Images of the star of Bethlehem and the words "peace" or "joy" provide a good starting point. Once you have the design you like, you may want to seal the wood with a clear coating of polyurethane. You can also add a rough twine to enhance the folksy look of your ornament.
Keep your ornaments for your own household, or make them for others. This handmade item can be a thoughtful and heartfelt gift for classmates, neighbors or friends at church.
Popsicle Stick Snowflakes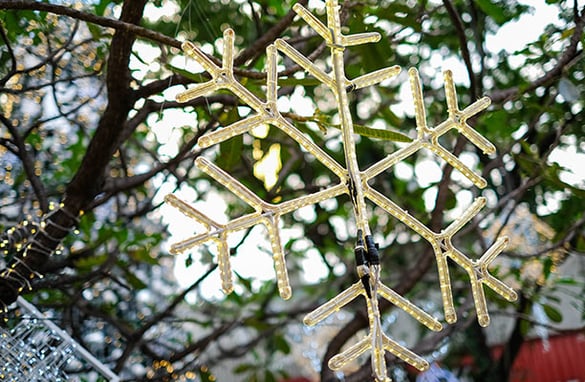 Materials:
Popsicle sticks
Hot glue gun or wood glue
Paint or markers
Decorative string or fishing line
This is a fun DIY project that will not only be fun for your teen - but it will also brighten up your home. Start with popsicle sticks and begin gluing the ends together in the form of a snowflake. Your teen can create one that is big, small, pointy, round, traditional or whacky. Remember - no two snowflakes are the same!
When you are happy with your pattern, wait for the glue to dry and paint or color in your snowflake. While snowflakes might be commonly colored blue, challenge your teen to get creative with a tie-dye snowflake. You can even boost your creation with some glittery spray paint.
When the paint is dry, attach some decorative string or clear fishing line. You can create one or two for a simple decorative touch, or create a huge snowflake mural on an empty wall in your home.
DIY Snow Globe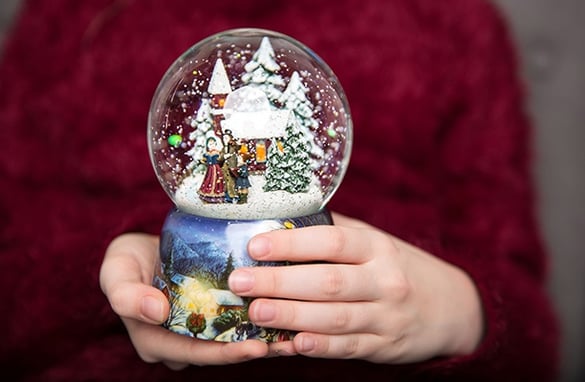 Materials:
Glass jar with a lid (choose one with smooth sides)
Water
Water-resistant glue
Glitter
Small Christmas-related figurine (make sure it fits in your jar!)
If you're looking for a quick DIY craft, this option is sure to impress. It only takes around 10 minutes, so it is perfect for your busy teenager.
To start, unscrew the lid to your jar. On the underside of the lid, use your water resistant glue to attach the figuring that you chose - an angel, a Christmas tree or a character from an unused nativity scene are all great options. Set this aside to dry.
Next, take your jar and fill the bottom with glitter. To create a snowy scene, use a mixture of light blue, dark blue and silver glitter. Fill the remaining space in the jar with regular tap water. In order to reduce air bubbles, you'll want to fill it up as much as possible.
Before you screw the lid back on, line the inner circle with the water resistant glue in order to prevent leaking. Once that is complete - viola! Shake up your snow globe to make the glitter swirl and display them for everyone to see.
Free Movie Guide From Pure Flix
If arts and crafts aren't your teenager's favorite thing, another great way to spend time together is to watch a Christmas movie. PureFlix.com has thousands of titles that are clean and uplifting for you teenager. Download your free guide to the most popular Christian movies which are sure to promote an encouraging message this holiday season.