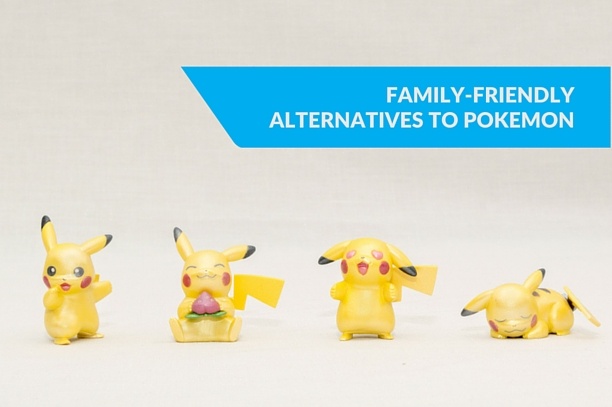 Earlier this summer, the augmented-reality game, Pokémon Go, became an overnight success around the world, overtaking Twitter and Snapchat in daily users in under one week. The game's incredible success has resurrected the popularity of the 90's cartoon, which was based off of the original Japanese video games. Pokémon (or "Pocket Monsters" in the original Japanese) is still on air today, including several spin-off series and feature films.
While the show and the video games that inspired it are relatively innocuous, there are elements to the increasingly-popular franchise that should give parents pause. Hints of Eastern spirituality, though not overbearing, are present, and of course Pokémon-on-Pokémon violence is thematic. Whether you've taken issue with Pokémon's content, want to avoid concerning commercials on television, or simply prefer a more wholesome alternative, we've got your back.

Here are three family-friendly cartoon alternatives to Pokémon that your 8-12 year old will love:
Read more: Veggie Tales: 5 Lessons from Junior Asparagus
Friends and Heroes
This adventure series combines an exciting adventure in the heart of the Roman Empire with flashbacks to Bible stories and lessons. Macky and his family risk their safety by taking in two refugee girls right under the noses of the Roman government. "Friends and Heroes" rivals the adventure kids love in Pokémon, but includes timeless lessons about courage, friendship, and faith. You'll love all three seasons of this beautifully animated, family-friendly adventure cartoon.
321 Penguins
If it's fun and wacky creatures your kids are after, they'll love "321 Penguins." With fun animation, goofy characters and plenty of adventure, this show explores important themes like friendship and faith. Through crazy space antics, the penguins of "321 Penguins" are sure to please kids ages 6-12.
Greatest Heroes and Legends of the Bible
Cartoon and adventure lovers alike will enjoy "Greatest Heroes and Legends of the Bible." This series is a family-friendly Pokémon alternative you don't want to miss. Brilliantly animating 13 Old and New Testament stories, this series is a great way to re-live your favorite Sunday School moments. Kids and parents will enjoy these episodes, and the lessons in them make for great family devotion time.
Whether you want an alternative to the Pokémon craze or just want to add some value to your kids' TV time, Pure Flix has hundreds of Christian movies and family-friendly TV shows for you to explore. The best part is, you can try Pure Flix FREE for one month. Just visit PureFlix.com and sign up for your free trial.
Read More: Top 10 Christian Movies for Your Family
How do you feel about the Pokémon Go craze? What are some alternatives you're interested in for your kids? Let us know in the comments below.