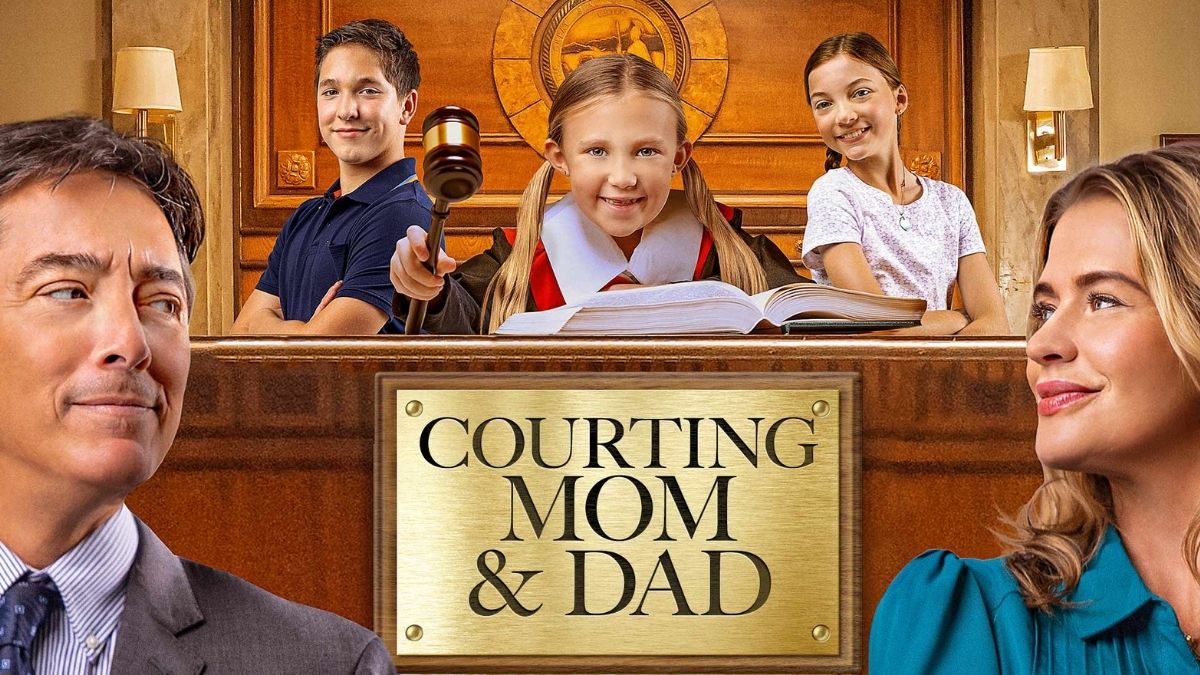 When siblings Isabel, Andrew and Ruby Lambert find out that their parents, Brent and Sarah, are planning to divorce, they employ the help of an eccentric personal injury attorney in a last-ditch effort to save the marriage.
READ ALSO: 4 INSPIRATIONAL MOVIES THAT COULD HELP HEAL YOUR MARRIAGE
That's the plot for "Courting Mom and Dad," one of the movies about divorce that gives audiences a lens into how kids might be feeling in the midst of such tragedy. This heartfelt family movie delivers moments of clarity, drama and comedy, as the Lamberts navigate unfamiliar waters and end up coming to some powerful and convicting conclusions.
Cast of 'Courting Mom and Dad'
If you love Scott Baio movies, "Courting Mom and Dad" is for you. But who else is in the cast? In addition to Baio, who plays main character Brent Lambert, Kristy Swanson portrays Brent's wife, Sarah Lambert.
Beyond that, Kevin Downes plays Lambert family member Paul Jensen, Vanessa Angel plays Brent's boss, Chelsea Dwyer, and John Farley is the kids' eccentric attorney Donovan Marshall.
The children are played by Bailey Baio (Isabel), Everson White (Ruby) and Ryan Florida (Andrew).
READ ALSO: 10 BIBLE VERSES THAT COULD HELP SAVE AND HEAL YOUR MARRIAGE
Lessons in the Movie
Now that we've covered the cast, let's explore some of the key lessons we can take away from "Courting Mom and Dad." It's one of the most pertinent and timely movies about divorce. As people struggle with marital problems, it's easy to let frustrations bubble over.
But "Courting Mom and Dad" offers a powerful lens through which one can see love, relationships, marriage — and healing. So, let's break the movie down lesson-by-lesson.
Pray For Each Other
The first lesson we can take away from "Courting Mom and Dad" is that families should be praying for one another — husbands for wives, wives for husbands, parents for children — and children for parents.
When the kids in "Courting Mom and Dad" approach their Uncle Paul for help, he reminds them of the importance of prayer, especially when it comes to the healing process. We can use the same reminder in our own lives.
Put God in the Center of a Marriage (and Family)
It's easy to see how life can get so busy and complex that we move God out of the center and place success, career and other things of lesser value in His place. But, as we see in the film, this can be a dangerous and problematic habit.
We are reminded throughout "Courting Mom and Dad" that it is essential to put God in the center of our marriages and our families. And if you're struggling in this arena, don't worry! It's never too late to recalibrate and think deeper about how we can fix the current state of our marriages and families — and it's a very good idea for us to routinely pray over and ponder how we can do better, even when things are going well.
READ ALSO: 22 BIBLE VERSES ABOUT HUSBANDS AND THEIR ROLE IN MARRIAGE
Set Your Priorities
In addition to putting God at the center, "Courting Mom and Dad" is one of the movies about divorce and restoration that shows us how unhappiness can sometimes take root slowly and over time. As viewers will see, Brent and Sarah have both made mistakes, including Brent's unfortunate habit of not putting family first.
Again and again we see him prioritizing work — and that clearly places stress and frustration on the marriage. Brent's priorities are all out of order, and we see his wife reacting to that reality. He even admits at one point: "If I wasn't so preoccupied with my work I would have spent more time with my wife and I wouldn't be in this position."
Believe in Miracles
It's important to never give up on people and to believe in miracles. We see in "Courting Mom and Dad" how restoration is possible and how relationships — when we put in effort — can take unexpected turns.
STREAM NOW: "COURTING MOM AND DAD," AVAILABLE NOW ON PURE FLIX!
Even when situations seem hopeless, it's important to still believe in miracles. While we must live in reality, we should never limit what's possible. "Marriage is a loyal partnership," Uncle Paul reminds us in the film. "So, you really think God would leave you with just two options: misery or divorce? It's a myth."
Put Others First
The struggles the Lamberts go through remind us of another important reality: we are called to love others — even more-so than we love ourselves. This can be a struggle on a normal day, but when there is marital chaos or fighting, it becomes even harder.
READ ALSO: 5 POWERFUL BIBLE VERSES ABOUT LOVE AND MARRIAGE
It's clear that selfishness can have a dire impact on relationships, and when we love others and respect them by treating them with care and dignity, we avoid many of the problems we see developing in the movie. In some cases, it comes down to making a real effort to change.
"Children deserve to live in a home where the parents learn not to fight with each other," Uncle Paul proclaims in "Courting Mom and Dad."
Love Takes Work
Marriage takes work! That's something that is important to remember throughout one's matrimony. And the best things in life are worth working — and fighting — for. More broadly, there's a lesson here for every family member, as relationships require effort. It is effort that, in the end, pays off.
Dive into "Courting Mom and Dad" starting May 9 on Pure Flix to see one of the best movies about divorce, marriage and reconciliation. Learn, grow and be entertained along the way! Not a member? No problem! Get a free trial today so that you can stream thousands of faith and family-friendly movies, TV shows and original series today.