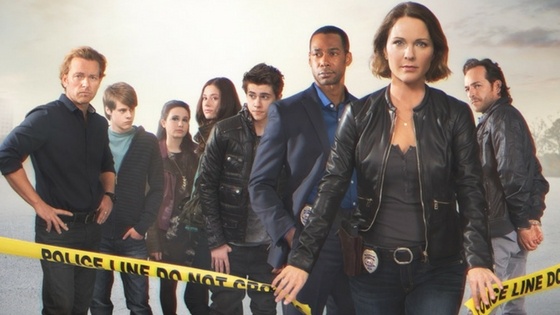 Last week, Pure Flix Insider got the chance to hear from the actors of TV series, "Ties that Bind." The actors gave us the lowdown of life on set and how they stay in character. Season one of "Ties that Bind" premiered on the UP Network last year and is now available to stream at PureFlix.com.
The show revolves around Allison McLean (Kelli Williams), a tough and experienced police detective, mother and wife in suburban Seattle. When she and her police partner (Dion Johnstone) must arrest her brother (Luke Perry) for aggravated assault, her world drastically changes as he's convicted and sent to prison, leaving his two teenagers teetering on the brink of foster care. Ultimately, she takes them into her home, ending up with four teenagers to raise as well as her demanding job solving local crimes.
Actors Kelli Williams (Allison McLean), Mitchell Kummen, (Allison's son, Jeff), and Matreya Scarrwener (Allison's niece, Mariah) answered the following questions for us:
What was your most challenging role as an actor?
Matreya Scarrwener: "Ties That Bind" was probably one of the most challenging roles I have played. The thing that made Mariah so challenging is actually one of my favorite things about this character. It is the fact that she is so dynamic and ever-changing. Mariah is a fourteen year old who despite everything that is going on in her life, is trying to figure out who she is as a person and find her identity. True to what actually being in that stage of life is like, every time I thought I had a grasp on who she was, she would change.
Kelli Williams: I would have to say that "Ties that Bind" is my most challenging role to date. I had the pleasure of being in almost all of the scenes, so I had to be super prepared. We shot 2 episodes at the same time so I would make extensive notes for myself about where my character would be emotionally at various times. Communication is key. I really love collaborating with the director and the other actors to make it as good and dynamic as it can possibly be. The lovely lesson I got out of it is that I think we are all capable of juggling a lot more then we think. As long as you take care of yourself and don't take yourself too seriously.
How did you prep to get into your character?
Mitchell Kummen: Well I do something called casting the character specifically. Basically I take people from my real life and cast them as characters in my head. So I would pretend my onscreen mom is my actual mom, for example.
Kelli Williams: I shadowed a police officer for the day in Los Angeles, and asked her lots of questions. Dion and I also had some weapons training. We wanted to represent well, and not look like actors pretending, even though we are actors pretending. I'm already a mom juggling career and family life so that part wasn't new to me.
How do you keep in character? Did you ever break role yet the scene was kept in the final cut?
Matreya Scarrwener: I try to just listen to the other actors in the scene. Once and awhile if someone flubs a line or something funny happens I might break character. I actually have broken character and had it stay in the final draft. It was the first scene of the show in courtroom when the verdict was read that Mariah and Cameron's Father is sentenced to two years in prison. When the sentence is read I am supposed to burst into tears. It was my coverage and Luke Perry who plays my father turned around and said super dramatically "take care of the dog for me!" It just caught me off guard and I covered my mouth to keep from laughing. That was the take they ended up using. I hope no one noticed, but I guess the secret is out.
Mitchell Kummen: I only break character when someone laughs. I can hold a straight face through almost any situation, until someone laughs. I just tell myself that I HAVE to stay in character and can keep a straight face.
What's the hardest, easiest emotion for you to portray?
Matreya Scarrwener: Certain scenes are definitely more challenging than others. Mariah was quite an emotional character, and, depending on what order the scenes were shot, I might have some work days were I would pretty much just be crying for 12 hours straight. That is a time when emotional scenes do become a challenge because that can be even physically exhausting.
Mitchell Kummen: Easiest is anger - I don't what that says about me though. Hardest is sadness.
Are there physical demands/stunts you have to perform?
Matreya Scarrwener: I wish! Although, it's probably best that we left most of the cool stunts up to Kelli Williams, A.K.A Detective Allison Maclean: cop/mom extraordinaire!
Kelli Williams: Yes, I had a lot of stunts. Well, physical demands because I had a couple of fantastic stuntwomen handling the big stuff for me. I did have to jump off of a shipping container once. I was totally scared, but I did it. The challenge of the stunts is that you want it to cut together seamlessly so I would have to get myself right up to the point where it seems like its me all along. It's a fun challenge. Stretching is key!
Do you have any talents/skills that you get to employ occasionally on set?
Mitchell Kummen: Martial arts helps me with stunts on set so I really enjoy that. I sing as well.
Kelli Williams: I am very happy that no one asked me to sing. I have been told that that is not part of my skill set.
What is your favorite scene in "Ties that Bind?"
Matreya Scarrwener: My favorite scene in "Ties That Bind" was actually the last scene in the last episode. After getting to know Mariah all season it was really interesting to see how Mariah acted towards her mother, and how an enabling, codependent relationship can be born out of purely caring about someone. I was so proud that the show was able to accurately represent what it can be like to be the child of an addict.
Kelli Williams: I can't pick just one favorite scene. Don't make me ;) One of the things I liked about the show was that you saw both sides of my life. My work and home life, and how they don't always blend seamlessly. I enjoyed having scenes with Jon and the kids and I also really liked tackling a bullpen scene with Dion. Oh, and tackling a suspect. One of my favorites was a date night with Jon which followed up with the kids getting in trouble. I also loved my heart to hearts with the kids. The episode where I deal with my past is also on the top of my list. It included some emotional and physical challenges with Jason Priestley. A fun tidbit... Dion forgot to put the car in park during one take when we first confront Jason's character. Need I say more?! That was hilarious and ridiculous. Don't worry, nobody was hurt during the filming of "Ties." :) But I always tried to drive after that.
What is your favorite line?
Mitchell Kummen: "I haven't eaten since the last time I was eating."
Kelli Williams: Showrunner Sheryl Anderson wrote far too many to count… "You don't want to cross this mother" "I should arrest you for crimes against feminism" "It wouldn't be easy, but it would be right"
Matreya Scarrwener: "If I have to start over, I'm going to do it the way I want, so don't get in my way." Mariah is walking down the hallway in a really short skirt and her cousin Rachel played by Natasha Calis sees her and asks her what she is wearing. Natasha and I were excited to do a scene where we got to be sassy with each other and we kept laughing because in real life we are pretty much obsessed with each other.
Special thanks to Matreya Scarrwener, Mitchell Kummen, and Kelli Williams for answering our questions. To check out season one of "Ties that Bind," visit PureFlix.com. To watch "Ties that Bind" plus thousands of other family movies, TV shows, originals, and documentaries for free, visit PureFlix.com and sign-up for a free-month trial.
Read Also:
If You Like CSI, You'll Love Ties That Bind