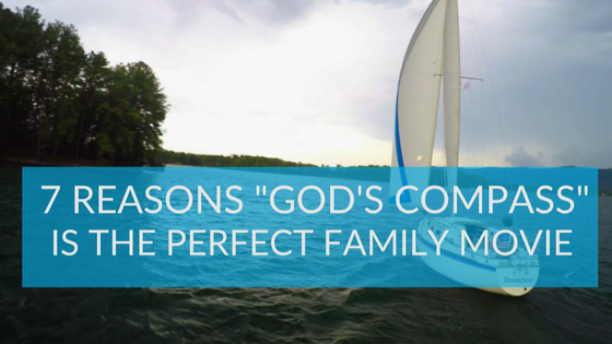 New films constantly appear on PureFlix.com, keeping the selection fresh and up to date with the latest Christian movies. While we happen to think that all the movies are good, we also recognize that some movies are made for kids, some are good for date night, some are perfect for Bible Studies and so on. But the best movies are the movies made for families. Family movies are more than just films - they are an opportunity to spend time with those you love. The good news about family movies on Pure Flix is, beyond just entertainment, they also offer a positive message that opens the door for great family discussion.
If you're looking for a flick that will foster some good family conversation after the credits roll, look no further than "God's Compass." Not convinced? Here are seven reasons why "God's Compass" is one of those films that the whole family - from kiddos to grandparents - will enjoy.
1. There's a character that everyone can identify with
The cast of "God's Compass" is just about as diverse of an age group as you can get. Lead characters include a grandmother, a teenager and his kid sister, a mom and dad, and a newborn baby.
2. It has great actors.
If you liked War Room, you'll love this movie too. "War Room" actors, Karen Abercrombie, and T.C. Stallings (who was also in "Courageous"), team up once again to inspire audiences in "God's Compass."
3. It won the best screenplay at the International Christian Film Festival.
And for good reason. The lines in this film are deep and prayer-filled. The script is sure to keep your family engaged and talking after the film.
4. It's a story of redemption.
All great stories include a theme of redemption. The protagonist has some challenges, and he or she must be saved. In "God's Compass" both the children and the adults are the protagonists, and, in familial love, they save each other.
5. This is not one of those low-budget films.
Family movies are often criticized for being low-budget or cheesy, but according to NRB (National Religious Broadcaster), Screenwriter Dan Gordon ("The Hurricane," "Wyatt Earp," "Highway to Heaven") said that "God's Compass" is a "powerful, uplifting, heartfelt Christian film, meeting the highest Hollywood professional standards."
6. It will strengthen your faith and your family's.
According to Liberty University News Service, writer/director Randall Wallace ("Braveheart," "Heaven is for Real") said that "'God's Compass' portrays a kind of faith that seems out of reach to most of us and yet affirms its potential for all of us. Bold and brave in its story and its style, this is a film to applaud."
7. You can watch it for free.
If your family likes most, budget-friendly is always a bonus. "God's Compass" and thousands of other family movies are available at PureFlix.com for free, when you sign-up for a free trial. So spend a little more on ordering take-out. The film's on us.
Read Also:
How To Keep a Full Heart When Your Nest Is Empty