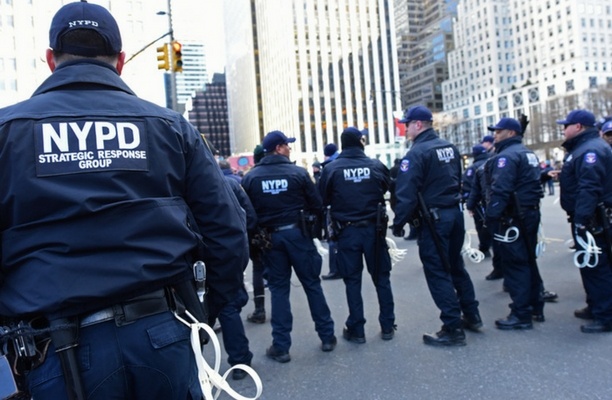 When the news cycle is full of stories of police officers coming under fire for violent and problematic behavior, it can be hard to remember the law enforcement officers that consistently do a great job defending our communities. Many of these brave police officers are inspired to serve by their faith, even in the midst of danger and criticism. Here are the stories of five police officers inspired to serve by their faith in Christ:
1. Bryan Lawrence (Roanoke)
Officer Bryan Lawrence was well known in the city of Roanoke, Virginia for his persistent good attitude and kind spirit. HIs childhood friend, Steve Woolwine, told Pure Flix Insider in a recent interview that Lawrence's first love was ministry, but a learning disorder prevented him from pursuing seminary. Lawrence decided to serve others as a police officer, but God had other plans.
In 2008, while making an arrest, Officer Lawrence was assaulted and paralyzed from the shoulders down. Despite his injury, Lawrence inspired countless people in his community when he refused to give in to hate and forgave his attacker. After a miraculous recovery, Lawrence became a pastor. He told Pure Flix Insider, " Everything they said I would never be able to do, God made those things happen."
His story was turned into a Christian movie in 2014 called, "Badge of Faith," which is now streaming on PureFlix.com.
2. Rebecca Arguelles (Chicago)
Faith & Fitness magazine recognized Rebecca Arguelles from the Chicago Police Department for her outstanding commitment to fitness. Arguelles shared that her faith was a big motivator for her service. She told the magazine: "In my opinion there is no better way for me to serve than to protect the citizens of Chicago. It was the profession the God chose for me."
After just two years on the job, Arguelles was assigned to undercover work for the Narcotics section. She highlights how God protected her during her undercover work:
My faith has always played a big role in my career. I know with certainty, that God placed me in this role. He has protected me over the years. Looking back, especially working undercover, I realized there were many times I should not have made it home. I take seriously my profession of Christian faith knowing that in the Bible it says, "We are God's governing authority." As a Christian, I know that I am more than a police officer. I am a representative of Jesus Christ.
Arguelles is a member of the Fellowship of Christian Peace Officers.
3. Officer Johnathan Fontenot (Thibodaux)
In his article, "The Christian Police Officer," Officer Johnathan Fontenot from Thibodaux, Louisiana wrote, "The challenges of being a Christian or a Police Officer are in and of themselves diverse, but being both at the same time has proved to be more challenging than I could have ever imagined."
Fontenot says that having the right attitude and eyes fixed on Christ is crucial:
I have to constantly remember that I live in a fallen world ravaged by sin, but I also must remember that one day sin will be no more. I must keep this mentality, but at the same time I must do my job, investigate what happened, and make a decision on what to do about it. It is no easy task, but I can do all things through Christ who strengthens me.
4. Tyrone Williams (Montclair)
In February of this year, Montclair Police Lieutenant Tyrone Williams spoke at Union Baptist Church in New Jersey about his experience being an African-American police officer during the events of the last couple years. He spoke alongside his colleague, Detective Rikki Cook, and they titled their talk: "Conversations About the Challenges of Being a Black Christian Police Officer in a Divided Country."
Williams acknowledged the challenge of working as a police officer in a country where racial division seems to be at the front of everyone's minds: "I can't stay home because it's a bad day. I got people under my command. "I have a community out here that's looking for me to come and talk to and bring some kind of calm and resolve because two more black men got shot."
Williams told the audience that for him, faith plays a big role in what motivates him. He said, "The way I have been able to find that balance is staying true to what I have been taught, what I have learned and what I believe what God tells me."
5. David Brown (Dallas)
In an interview with CNN's "State of the Union," Dallas Police Chief David Brown told host Jake Tapper he is a "person of faith," and a Christian. Brown's story, which Tapper called "rather extraordinary," is one of consistently overcoming tragedy with faith and resolve. Brown has lost a former partner and a brother to gun violence, and shortly after becoming Dallas Police Chief, his son fatally shot a police officer and another man before being gunned down by police.
Perhaps it is his own experiences that allow Brown to deal with tragedies like the Dallas shooting last July. He told CNN:
I have always felt a sense of urgency about delivering police service, but I never wanted this job to be about me, then or now. I am a servant. and at my core, I enjoy serving people, and I am a person of faith. I am a Christian, and I believe that service is part of my direction, and loving people, despite themselves, is something I aspire to be.
Brown emphasized his desire to put the attention on the men and women who sacrificed their lives, saying, "They're brave. They're courageous."
You can watch "Badge of Faith" for free during your one-month trial of PureFlix.com.