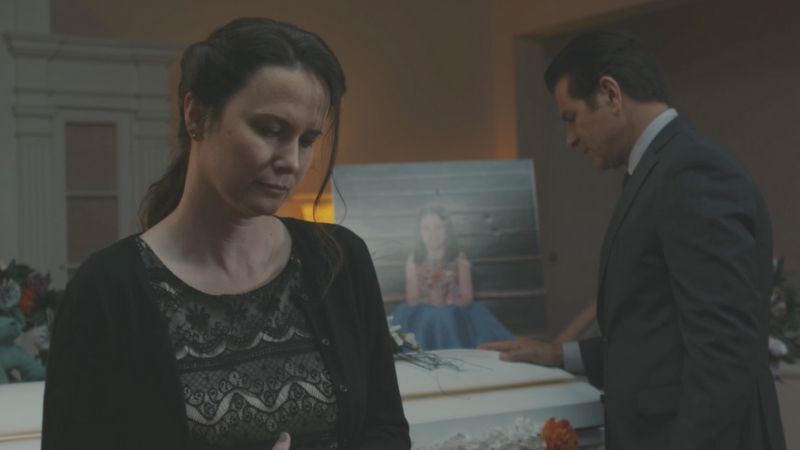 Life can sometimes throw some painfully surreal scenarios our way — situations that challenge our faith, knock us off course and leave us questioning why God would allow such difficulties to befall us.
READ ALSO: 6 Movies & TV Shows Now Streaming For You And Your Family
This is exactly what happens to Neil and Angie, a married couple at the center of season two, episode seven of "The Encounter" on PureFlix.com. The episode, titled, "Homeward Bound," deals with the couple's loss of their only child, Savannah.
And there are some truly powerful spiritual lessons embedded in the struggle Neil and Angie find themselves in. Listen to our devotional for spiritual growth on coping with loss (and read the written devotional below):
We All Face Situations That Seem 'Unreal'
Life can truly shock us, and when it does it's easy to lose our footing. Neil and Angie find themselves lost and alone after the death of their 6-year-old daughter. Neil, who is deeply shaken, proclaims, "This is all so unreal. All of this is unbelievable."
We've all been there before, facing difficult circumstances in our own lives — and there are certainly more challenges (and victories) to come for each of us.
But when they do, we can turn to God for guidance and solace.
Romans 8:28 (NIV) reminds us: "And we know that in all things God works for the good of those who love him, who have been called according to his purpose."
Let's remember this truth as we navigate the pitfalls of life.
READ ALSO: What To Do When You Feel Like There's No Hope And Nowhere To Turn
We Will See Christian Loved Ones Again
Death is a part of life, but it is admittedly one of the most difficult elements to deal with. The pain of loss and the missing hole that remains can deeply impact us. But for the Christian, we can be certain that we will one day see our lost Christian loved ones again.
John 6:39 (NIV) reads, "And this is the will of him who sent me, that I shall lose none of all those he has given me, but raise them up at the last day."
A day will come when we are reunited with fellow Christians. And that's a powerful and comforting reminder.
God Has a Plan
Sometimes, it's hard to understand God's plan — and many times we'll likely have no ability to discern what's really happening (and why it's happening) on this side of eternity.
We see Angie struggling with this, when she asks, "What kind of God lets a 6-year-old girl die from leukemia?" Considering her grief, this question is understandable from a human perspective, but it's clear in the Bible that we cannot know or see everything.
And since God is a loving Creator, we must put our trust in Him and in His plan. At one point we see Jesus make a truly fascinating statement in "The Encounter."
"There's a reason for everything," he said. "I'll use even this to glorify my father."
Sometimes, we might not understand the "why," but we can take comfort in the fact that the Creator of the universe loves us, created us and wants the best for our lives. We can also trust Him to find the peace we need to carry on.
READ ALSO: Life Is Short — Here's Why That Reality Should Rock Us To Our Core
Satan Lies
The Bible makes it very clear that Satan is a liar, and that he is cunning and ever-willing to attack human beings. This can sometimes happen when we are at the lowest points in our physical, mental or spiritual walks.
We see the devil attempt to confuse Neil and Angie in their time of grief, forcing them to consider whether their daughter's death was their fault.
In our own lives, the lies Satan tells us can be extremely damaging and even dangerous.
This is why prayer, scripture reading and connection with God are so important. Remember in your times of struggle and need that the Lord is your only standard; cling to Him and His truth.
Be sure to find out how Neil's and Angie's story unfolds by watching season two, episode seven of "The Encounter" on PureFlix.com. You can see this incredible, original series along with thousands of other movies and shows with your free PureFlix.com trial.