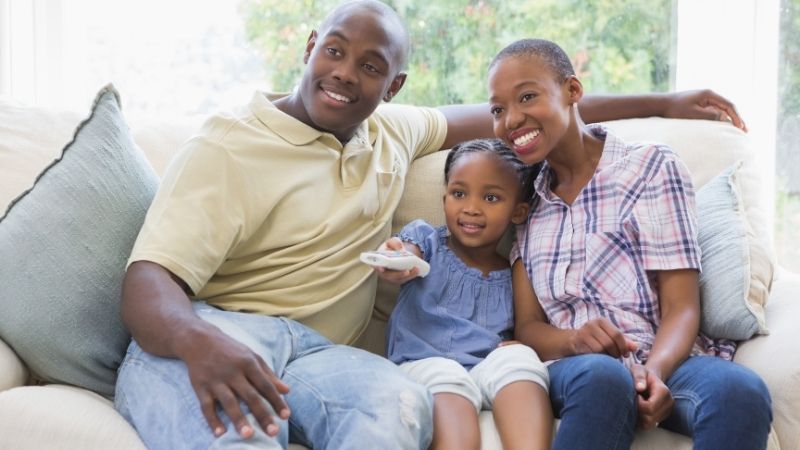 Exercising more, going organic, losing weight... these are all great New Year's resolutions toward a healthier family. But what about choosing some resolutions that have to do with your family's emotional and psychological well-being? A great place to start is what your family watches on the TV, laptops, phones, and tablets in your home. If you want your family to get "media healthy," here are three resolutions to make this year.
New Year's Resolutions for your media consumption
1. Engage in media that aligns with your values
Did you know that kids define what "normal" is by age 3? What are you allowing your kids to think normal behavior is? Not only do you want to guard your kids from violence, sex, and language, also consider if the characters in their movies, TV shows, and videogames are good examples of character.
Just as movies can negatively influence character and behavior, faith and family movies can help build it. Opt for streaming movies based on your favorite books or introduce documentaries into your media repertoire. And don't forget to fill your phone or tablet with apps that encourage your faith journey.
>Read Also: 4 Christian Cartoons Your Kids Will Love
2. Watch TV together
The American Academy of Pediatrics recommends establishing a media plan for the family so parents are involved and active in the media their children consume. The AAP still recommends that children ages 2 and under be as "screen free" as possible and that children spend their childhood engaging in free play where their creativity and motor skills can develop and grow.
But, not to worry, that doesn't mean all television and movies are off limits. The AAP recommends that parents watch educational and high-quality programming with their children because parents can provide context and lessons outside of what is on the screen.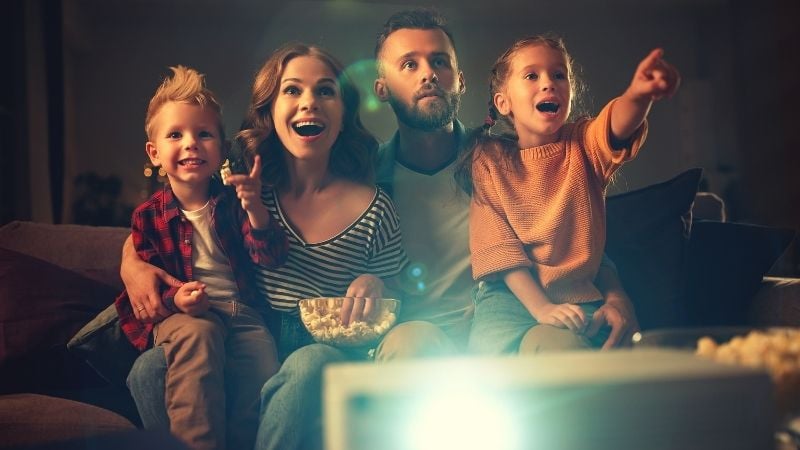 What is high-quality programming? Anything that you feel helps your child learn and benefit from screen time and something you will enjoy watching with them. For younger kids, shows such as "Superbook" and "Friends And Heroes" are fantastic for teaching lessons to little ones, and the shows are so well done, that parents won't mind watching them as well. For pre-teens and teens, check out this list of quality family movies that parents will also enjoy.
Devotions For Kids: 8 Best Children's Devotionals About Jesus
3. Skip the commercials
Beyond the fact that commercials waste time, 14 percent of commercials contain negative content, according to a study published in the journal "Psychology of Popular Media Culture."
Another meta-analysis published in 2007 found that:
"Advertising can influence children in three different ways. First of all, the ads use powerful multimedia techniques to hold children's attention. Also, younger children do not have the cognitive tools to tell the difference between commercials and television programs. Finally, young children are often less likely to know the difference between reality and what they are being told. Any parent dealing with a child pleading for them to buy the latest toy knows perfectly well how influential commercials can be."
Opting for a streaming service over cable TV helps to avoid commercials and saves time. A recent study shows that children who watch TV on a streaming service skip 150 hours of commercial time a year (the equivalent of 6.25 days). Imagine all the things your family could do together with time lost to commercials.
BONUS NEW YEAR'S RESOLUTIONS: Family Shows to watch right now
VeggieTales
For young audiences who need a light-hearted tale with a positive message, VeggieTales movies tell powerful Bible stories for kids. You can watch the entire VeggieTales collection right now on Pure Flix!
Bibleman
Bibleman and his team fight evil with the word of God! This animated series offers some fun and important Bible stories for kids, as viewers are simultaneously entertained and educated about truth.
Watch the trailer for "Bibleman: The Animated Adventures Volume 1" right now on Pure Flix.
What are some media habits that you want to incorporate into the New Year? Share your thoughts in the comments. Do you have family movie recommendations? Share those too! For a great resource that will help your family develop great media habits, visit Pure Flix where you can watch thousands of family originals, movies, TV shows, documentaries, for free trial.