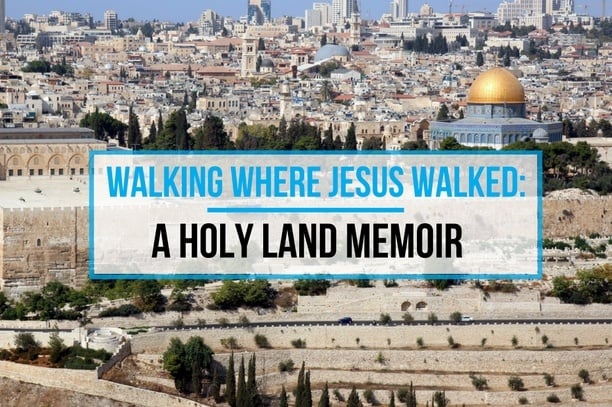 Shortly after landing in Tel Aviv, all forty three of us tired American students shuffled onto the large tour bus that would be our transportation for the next eight days. It's an odd feeling, when the only thing keeping you awake is excitement and curiosity. I had been traveling for thirty hours already when we touched down on Israeli soil, so I don't remember every detail from that first day.
One thing I'll never forget, though, is how one of our tour leaders, Cindy, stood at the front of our bus as we bumped along the highway through Tel Aviv and said into the bus microphone:

"We love to say that Israel is a dangerous country… because you'll fall in love with it and never want to leave."
Israel would grab ahold of my heart, but in very unexpected ways. As I looked out the window, it struck me: I didn't really feel like I was in Israel. I wrote in my journal that night, "I don't feel like I am in Israel. This feels like California had a baby with Arizona."
Of course I knew this small country on the coast of the Mediterranean Sea was where Jesus walked, but I almost found that hard to believe while driving through a modern technological metropolis. For many Christians, encountering Christ in the place where he lived and breathed is a major selling point for a trip to Israel. I was eager to walk where Jesus walked, and had high expectations for how I would react.
Appropriately, we spent our first night in Tiberias- right on the water of the Sea of Galilee. Here, Jesus fished with his disciples and Peter walked on water. We were all exhausted, but excited for what the coming week would hold.
The next day, we visited Capernaum (where Jesus settled as an adult) and the house of Saint Peter's mother-in-law, whom Jesus healed in that very house. Today, the ruins of Capernaum are the site of a Catholic monastery, and a church is built over Saint Peter's house. This is one site that is not merely tradition, but has been identified by archeologists as one hundred percent authentic.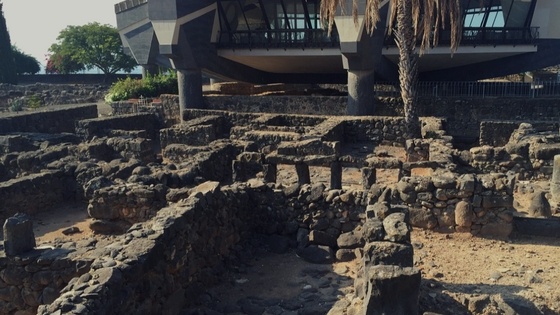 Geographically, I was almost certainly standing in a spot Jesus once was, so I prepared for the rush of overwhelming emotion I was supposed to feel; instead, I was merely interested, enjoying the view of the Galilee. I felt disappointed in myself, as if I could control my reaction and had failed to live up to my own spiritual expectations. I felt it should have been a big moment, and yet I was far from tears.
That afternoon I was re-baptized in the Jordan River, the same river Jesus was baptized in. It was hard to imagine the baptismal site without the gift shop, paved access to the water, or concrete steps on the shore. But when I stood in the water and the fish (which were plentiful) nibbled at my toes relentlessly, I got a tiny glimpse of something I knew Jesus also experienced. I laugh about it now- I had been visiting sites where Jesus lived and taught all day, and now I was being baptized very near where he was, and yet it wasn't any of that I was struck by- it was the fish biting my feet that I noticed. It felt like Jesus and I were sharing a physical experience, and I felt a sense of companionship with my Savior.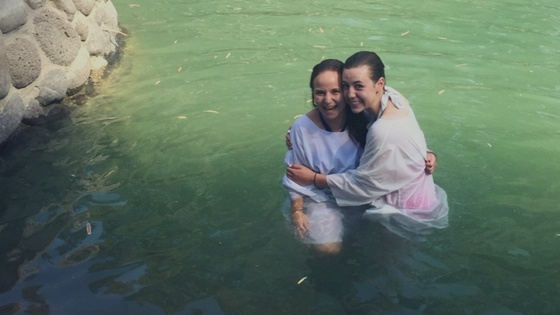 The following day we focused on modern Israel as we traveled through the Golan Heights region (formerly Syrian territory) and learned about the 6 Day War in 1967 and the Yom Kippur War in 1973. I could write pages about the miracles God has done for the modern state of Israel that we learned about that day, and if you're curious you can read about it on my personal blog. That night, we celebrated our last night on the Sea of Galilee- it was time to go to Jerusalem.
The drive from Tiberias to Jerusalem is only three hours, but our stops along the way meant the trip took us most of the day. One such stop was the ancient Roman city of Beit She'an, a site that was once a part of the kingdoms of David and Solomon (1 Kings 4:12). Exploring the ruins of Beit She'an was my favorite part of the trip so far, and I filmed a walk-through of the city to show my friends and family.
After a day of touring, we arrived in the Holy City and our first stop was Mount Scopus, which overlooks the city. My first thought was that Jerusalem was very beige (all buildings are required to be built with limestone). Once again, I had that gut feeling that I wasn't thinking what I was supposed to be thinking. Where was the awe? Why wasn't I overcome? I would realize later that, just like in Tiberias, in the Holy City it would be the small things that would impact me the deepest.
The next morning we began on the Mount of Olives, where Jesus and the disciples would have stayed when they visited Jerusalem. As we sat facing the wall around the city, I sketched the Dome of the Rock and the Golden Gate. I wasn't thinking, "Wow, Jesus stood near where I am standing." Instead, I was thinking, "Jesus saw that wall." It seemed funny to me as I made an attempt at drawing the view to remember the perspective I had gained that it was seeing what Jesus saw that hit me, rather than walking where he walked.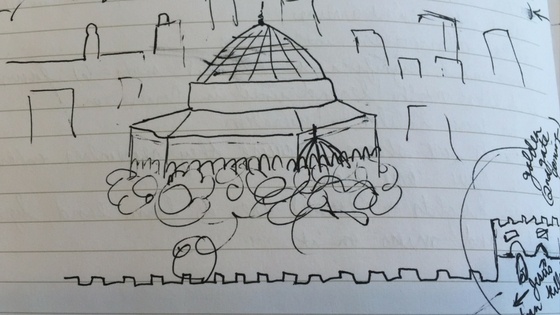 We walked from the Mount of Olives to the Garden of Gethsemane, where Jesus agonized before his crucifixion (Matthew 26). We visited the Wailing Wall (as it was the Sabbath, no pictures were permitted). The next day, we journeyed outside the city to the Ein Gedi desert, Masada and the Dead Sea, then back to Jerusalem. I could write pages about each and every place we visited.
We had reached our last full day in Israel before I knew it. On that final day, we visited what was the traditional site of the Last Supper, the Upper Room. The location is a church built in the 12th century and later turned into a mosque by the Ottoman Empire in 1524. The room now serves to commemorate the Last Supper and Pentecost, making it a site of pilgrimage for many Christians.
There, in a site very near to where the Holy Spirit first came to Earth (Acts 2), which still bears signs of Islam from the time it was a mosque, I recognized why I did not feel overcome by walking where Jesus walked. I was reminded of the words of the angel at the resurrection: "He is not here, he is risen" (Matthew 28:6). I was moved at the realization that an authentic encounter with Christ does not require a pilgrimage across the world; Jesus rose so he could meet us wherever we are.
This realization was confirmed just hours before our departure from Israel. One of the very last sights we visited was the Garden Tomb, one of two possible sites where Jesus was buried. We sat across from what may have been Golgotha, which stands across where a Roman road once was. Now, it is a bus stop littered with trash. I felt like the trash and disregard for what might be a "holy" site was oddly appropriate.

It was a reminder that Jesus' death is no longer the point- his resurrection is. How appropriate that we ended our trip with a look at the empty Garden Tomb. He is risen!
My time in Israel was powerful, and had a deep impact on my heart and worldview, but not in the way I expected. It was as though I needed to travel thousands of miles to appreciate the daily access I have to Abba.
Jerusalem is the Holy City, and Israel is the Promised Land- thousands of years of history and countless miracles have occurred there, and the fingerprints of God are evident. I wish everyone was able to travel there and experience the Holy Land, but for those that cannot, my prayer is that they are able to see clearly that they can encounter Christ personally wherever they are.
Special thanks to Covenant Journey and Liberty Counsel for making this trip possible. If you know a Christian college student or recent grad who would benefit from a trip to the Holy Land, be sure to let them know about Covenant Journey. You can learn more about the program at www.covenantjourney.org or read more about our trip on my personal blog.
If you can't make it to Israel yourself (or you want to prepare for your own journey there), I highly encourage you to learn about the Holy Land on your own. Pure Flix is an incredible resource with countless titles exploring the sites I have mentioned and many more. If you're not sure where to start, I recommend:
If you're not a Pure Flix subscriber, you can try it for free for one month- enough time to watch all of these titles and others. But be careful- you may fall in love with Israel and find yourself making travel arrangements before you know it.