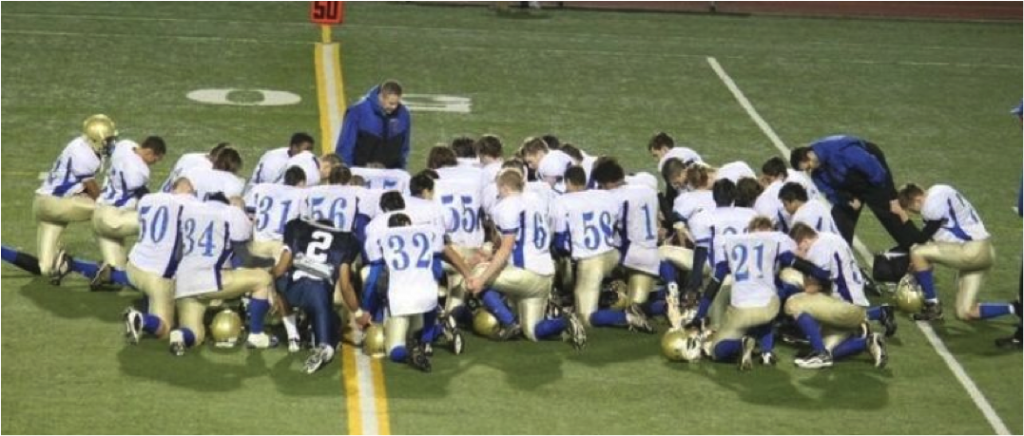 Interesting timing of this latest update to the "Coach Joe Risks Job To Pray" story we shared last month. So here we are on the release date of this highly relevant and timely Pure Flix film, "Woodlawn", opening in theaters across America with an update to inspire all believers.
According to a report this week by OneNewsNow.com, Coach Joe is defying his school's direct order to cease all praying on the field, "Since 2008, Coach Kennedy would walk to the 50-yard line where he would offer a short prayer of thanksgiving for the safety of the players, the fairness of the game and for spirited competition. Over the years, students joined the coach – all voluntarily. Kennedy stated, "I'm being investigated for thanking God for the opportunities that have been given me," he said. "It's absolutely ridiculous." The Bremerton School District eventually issued a three-page letter to the coach – forbidding him from praying before or after high school football games. Read Full Story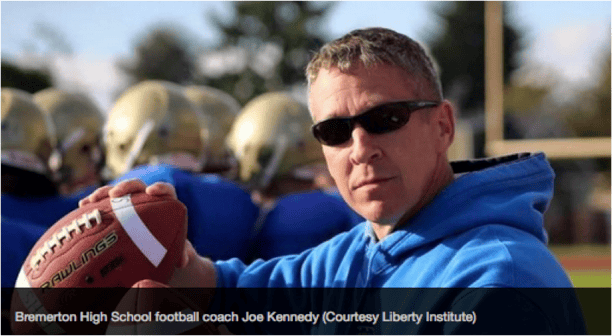 Read Also: 4 Critical Christian Values Taught in Sports
Enter Liberty Institute, who has come alongside Coach Joe to help defend his constitutional, religious rights. Kelly Shackelford, President and CEO of Liberty Institute had this to say. "The school district has no right to ban Coach Kennedy—or any citizen—from praying," ..."The coach is asking Coach Kennedy to choose between coaching his team and expressing his faith. He shouldn't be put in this position just because the school district misinterpreted the law." Read Full Story
Liberty Institute responded to the school with a sample of the court decisions that have set the precedent in favor of Coach Kennedy and his religious liberty rights:
Teachers and students do not shed their constitutional rights to freedom of speech or expression upon entering the schoolhouse (Tinker v. Des Moines Independent School District, 1916)
The First Amendment protects religious activity that is initiated by individuals acting privately, like Coach Kennedy during his post-game prayers (Everson v. Board of Education, 1947)
The government may not restrict the speech of private individuals for the sole reason that their speech is religious (Good News Club v. Milford Cent. Sch., 2001)
That speech by a public employee—including a teacher—does not always represent or appear to represent the views of the state (Tucker v. California Department of Education, 1996)
Please pray for our brother Coach Joe, visit his Facebook page to encourage him to persevere and stand strong in his faith. Also, we encourage you to further champion our religious freedoms by supporting this powerful new film, Woodlawn, based on the true story of situation that unfolded at Woodlawn High School back in the 70's. This film is already igniting faith, influencing lives for Christ and capturing the hearts, minds and souls all across America.
Check out this inspirational video showing some of the incredible ministry that has happened as a result of Woodlawn. and jump online at WoodlawnMovie.com, to check out the trailer and find a theater near you.
Want to see other inspirational films now streaming on Pure Flix? Click on the link below and start your Free Month of Unlimited Streaming.