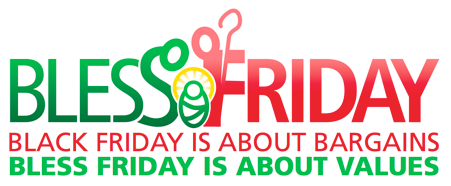 There's an interesting movement quietly brewing around the country that is seeking to change "Black Friday" into "Bless Friday."
Most of us are quite familiar with this day after Thanksgiving. It's when merchants all over the country try to drive customer traffic by drastically lowering prices on everything from fleece to flatscreens. To some, it's way of saving money. To others, it's becoming more of a day for service--not shopping--and a way to help reconnect with the spirituality of Christmas.
According to its website, started in Houston in 2010 and "is a movement to honor Christ by starting the Christmas season with service. Our vision in to transform Black Friday, a national shopping phenomenon, into Bless Friday, a spirit-filled service day. We're here to help connect individuals, groups and churches to the service opportunities that can transform our communities and our hearts…"
"This is a different way to start off the season," Chuck Fox, founder of Bless Friday, told The Christian Post. He said people are becoming tired of the consumerism that the Christmas season brings, and Bless Friday provides a "thoughtful call to action" to do something different.
According to Fox, he came up with the idea several years ago after listening to a sermon at his father's church. The topic of the priest's homily centered on the advent season, and how society is losing sight of why we celebrate Christmas.
"By the time I went to bed that night, I knew I needed to take the day after Thanksgiving and turn it from a day devoted to shopping to one devoted to service," Fox said.
Read Also: Making Time for Prayer: Why Putting God First is Best
Several churches in Houston and around the country are embracing the change to Bless Friday by helping others around the city and by meeting at their churches for projects.
For example, the West University Baptist Church, Crosspoint Church and Memorial Drive Presbyterian Church (MDPC) will unite in blessing a local medical clinic ministry, Casa el Buen Samaritano, by supporting its annual Christmas tradition of delivering cookies to patients and their families.
MDPC Pastor Alf Halvorson said: "As a nation, we have become so focused on the bargains that we forget what we should value – the gift of Jesus himself and His example."
One Houston church will work in conjunction with a local Boy Scout troop to clean and upgrade their prayer garden for the Christmas season. Another will prepare shoeboxes filled with Christmas gifts to be distributed by the International Seafarer's Mission or package rice and beans for a local food pantry.
In Seattle, Blessed Sacrament Catholic Church will send members of its congregation to help the homeless at the St. Vincent de Paul of Seattle food bank.
Even in San Diego, following a bake sale to benefit some less fortunate families in the congregation, there's talk of gathering at a local church to watch one of Pure Flix's holiday movies, such as "Christmas with a Capital C".
"People understand and support our message that when we focus too much on buying things, we lose sight of the real reason for Christmas – remembering and honoring Jesus," Fox said. "We want to begin our Christmas celebration by serving others just as Jesus did. We hope that as people hear our message, they will commit to help others especially during the Christmas season."
Read Also: How God Gives Purpose to Our Mistakes
There's an opportunity for many of us to get behind the Bless Friday movement. Why? Because an increasing number of us are being given the day after Thanksgiving off as a paid holiday.
According to Nerdwallet.com: "At least 18 states recognize the holiday, according to the National Constitutional Center. The list includes Arizona, Florida, New Hampshire, New Mexico, Oklahoma and Texas. Among recent additions to the list, Alabama made news last year when its Gov. Robert Bentley declared both Black Friday and Christmas Eve paid holidays for state employees."
One final thought to share regarding the Christmas season...this is a great time of year to host a "Movie Night" outreach at your church to share the good news of the Gospel through the power of film. If this is something you believe your church would like to do this season, please click on this link to the Pure Flix Ministry web site to learn more.