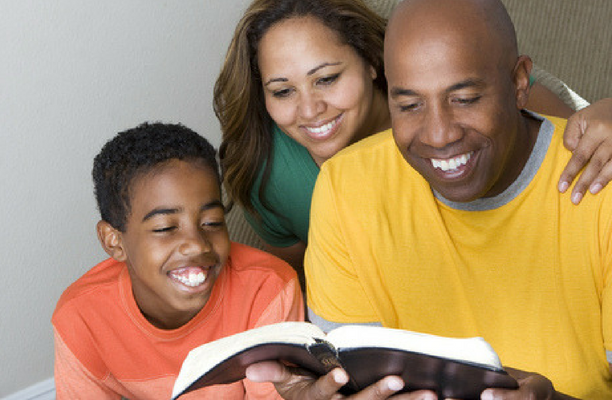 The following is a guest post from Latonya Moore. Latonya is a homeschool mom who blogs at Joy in the Ordinary and creates jewelry for Alexandra's Authentically Made Jewelry.
Studying the Bible with children can feel intimidating, especially if you don't feel up to par as a Biblical scholar. There's a notion that one must have a great wealth of knowledge before sitting down with God's word without a pastor or theologian. Becoming a mother has helped me to understand that the willingness to read the Scriptures and lean on the Holy Spirit to guide me is more than enough to help study the Bible with my daughters.
Studying the Bible with children doesn't have to be complicated. I have found three simple ways to engage my daughters in God's Word.
1. Include your child in your regular Bible study.
Do you study the Bible regularly with a Bible study like "She Reads Truth" or "Love God Greatly?" If you do, then you can simply include your child as you learn. My daughters and I have studied together with Community Bible Study workbooks and Good Morning Girls resources. Although I was studying with adults also, I dedicated time each morning to work through the lessons with my daughters. They not only saw me studying, but they were included. We each had journals or workbooks to write down our thoughts. I found that this method worked best when my daughters were at least 6 years old.
Read Also: 5 Christian Movies for Your Bible Study Group
2. Find a Bible study written for children and use it as a family.
Adult Bible studies can be a bit challenging depending on the topic for children. If you aren't working through a study, or the topic is too deep for your child, consider a study geared towards children such as Grapevine Studies. We have used Grapevine Studies throughout the years to help reinforce Scripture. When we are working through a study written to children, we work through it together instead of leaving the girls on their own. By working through the study together, we are able to talk about any concepts that they may need help grasping. By using a study that is written specifically for children or families, I've found that the authors provide support so that a parent who isn't fully confident in studying the Bible alone with their child can be successful.
Bible Study Resource: Friends and Heroes
3. Simply dig into a book of the Bible.
Most children have some knowledge of the people in the Bible and the main stories of the Bible such as Adam and Eve, Daniel, and the Flood, making digging into the books of the Bible where the stories are found a bit easier. We have read several books of the Bible together such as Mark. Since the girls are familiar with the Messiah's life, reading Mark wasn't intimidating. Instead, it was a way to offer depth to the foundation that had been set in place. You don't have to read the entire book in a day, but choose a book in which your child is somewhat familiar with the events so that his or her understanding can mature.
Read Also: Online Tools for Homeschooling Success
Learning the word of God with your child can be one of the most rewarding experiences on earth. Studying side by side allows the parent to see the Father through the child's eye which often can lead to heart changing conversations for the parent. If you aren't studying the Bible with your child, give it a try with one of the three suggestions. You will not be disappointed.
Read Also: 9 Christian Movies That Teach the Fruit of the Spirit