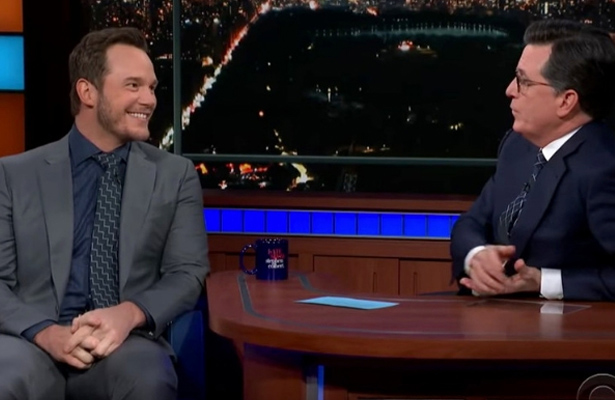 Actor Chris Pratt openly spoke about his Christian faith during a Thursday night appearance on "The Late Show," telling host Stephen Colbert about his recent experience on the Daniel Fast — and how he keeps calm and centered amid his monumental fame.
The conversation between Pratt and Colbert took an interesting turn when Colbert, after asking about the fast, referenced the Prophet Daniel's famed biblical experience surviving in the lion's den. Colbert piggybacked off the story and asked Pratt if his intense level of fame ever leads him to feel like he's in a metaphorical lion's den.
Read Also: Chris Pratt's Engaged: God Will Be 'Part of This Marriage'
The actor wasted no time in offering an incredibly insightful response.
"If the spotlight that's shining on you is brighter than the light that comes from within you — it'll kill you. And you see it all the time," Pratt said. "People in our position, people that are actors, you see a lot. It's this real bright spotlight."
And he wasn't done there. The actor continued, "Sometimes just having a self to share is what kills you because there's nothing left. So you have to have a light to share. You have to have a light that's just a bright as any of these lights."
Read Also: Chris and Cully Pratt Step Up to Help Kids in an Incredible Way
Watch the insightful exchange:
Pratt also explained that his pastor had encouraged him to take part in the Daniel Fast. At one point in the conversation, Pratt even encouraged viewers to read the Book of Daniel in the Bible.
"Go check it out," he said. "It's pretty cool."
This is hardly the first time Pratt has spoken out about faith. Be sure to hear what his brother, Cully, told The Pure Flix Podcast (at the 26:50-mark) about the amazing way he and Chris are partnering with a Christian organization to help kids in need: