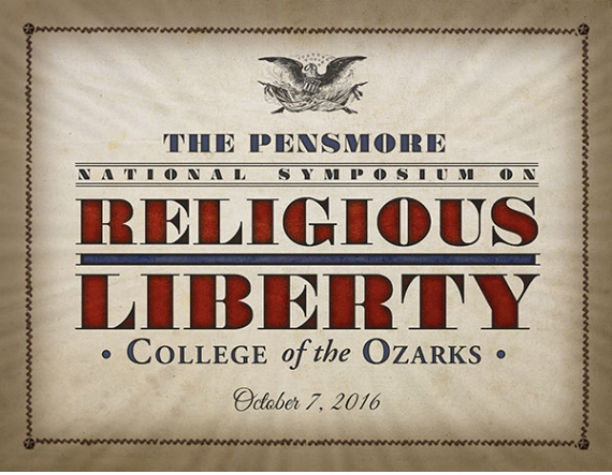 In the Pure Flix film, "God's Not Dead 2," Pat Boone's character, Walter Wesley, declares, "People seem to forget that in this day and age, the most basic human right of all is the right to believe." Wesley's words ring true to today's Christians who live in a culture that becomes less and less tolerant to practicing religion, believing in God, and following the moral compass of one's faith. In response to our nation's failure to defend religious liberty, the Pensmore Foundation, the College of the Ozarks, and the American Family Association (AFA) are cosponsoring the Pensmore National Symposium on Religious Liberty at College of the Ozarks on October 7.
The Pensmore Foundation's website defines the symposium as an "exciting live event that will redefine our appreciation of the history, current state, and future of religious liberty in America." The event boasts of an impressive roster of speakers that includes Dr. Ben Carson, Mr. Kelly Shackelford, Mr. Abraham Hamilton III, Rep. Louie Gohmert, Lt. Gen. William G. Boykin, and Dr. Mark David Hall.
"We thought it was very important to bring people together to talk about this issue, what was really intended by the founders, and try to awaken people to do something about it." Steven T. Huff, chairman of the Pensmore Foundation, said on the "Nothing But Truth" radio show.
Huff noted that men and women throughout history have sacrificed a great deal so that we might have religious liberties: "I just think it's very important that we not let them slip away without standing up in every way that we can."
An Event for all People, Regardless of Political Alignment
Though the event takes place a month before the election and it deals with religious rights, it is not an event saluting a particular political party. "This will not be a political event of any sort, and no endorsements of any candidates will be made under any circumstances," Ralf Augstroze, program officer for the Pensmore Foundation, told the AFA Journal.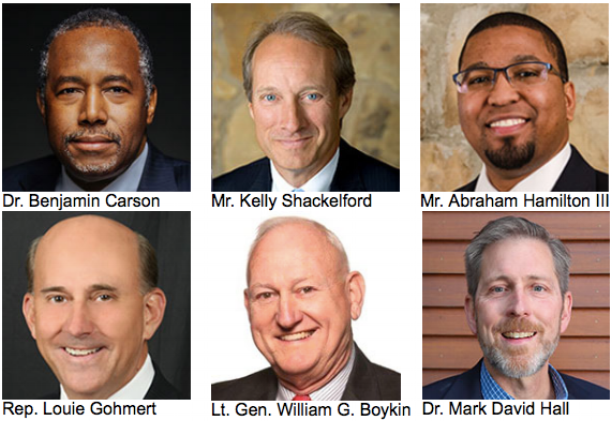 Read Also: Rejected 'God's Not Dead' Billboard Moves to Tennessee
Augstroze also noted that the event's talks will be accessible for people of all ages, from Millennials to senior citizens. He feels that the American people need to be awakened, saying, "One of the key catalysts to this decline has been the relative indifference, obliviousness, and unwillingness of the citizens – in many cases the Christian community – to do anything meaningful about the decline of our God-given, Founding Father-instituted constitutional rights."
An Event for Equipping Christians
The Pensmore National Symposium on Religious Liberty is a faith-filled, encouraging event to inform, unite, and equip Christians. "As we watch and report on the regular incidents evidencing our nation's moral decline and loss of religious liberty, it can become overwhelming at times. And it may be tempting to become discouraged." said AFA President, Tim Wildmon.
"In addition to informing, it is imperative that we equip and activate those on the home front to strengthen the moral foundations of our culture – to provide encouragement and tools to make a difference. For that reason, we are excited about this event."
More Details…
The Pensmore National Symposium on Religious Liberty will take place 7:30 a.m. - 5 p.m. on October 7. The cost is $50 to attend, but is free for students in high school, college, or graduate school. Pastors and ministry leaders have the opportunity to arrive a day early for a special pastor's pre-conference on Thursday, October 6.
Symposium topics include:
Who were our founders? What was their worldview? What was the foundation they laid for the ongoing liberty and prosperity of our nation?
Where do our rights come from, God or government? The consequences are devastatingly different, depending on the answer to this question.
What is the proper role and limitation of government, as envisioned by our founders?
Where are we now? How closely have we kept to the intentions of our founders?
What do (must) we believe as Christian citizens, and what specific actions can we take to redirect our nation onto the trajectory set by the founders?
Set in beautiful Branson, Mo., and overlooking Lake Taneycomo, the Pensmore National Symposium on Religious Liberty is an event you won't want to miss. Hear from profound speakers and leaders in religious liberty, and become equipped to join the front lines of defending our nation's right to believe. To register or for additional information, click here.
Watch the Pensmore National Symposium on Religious Liberty Promo Video:
Read More: Pure Flix vs. Netflix