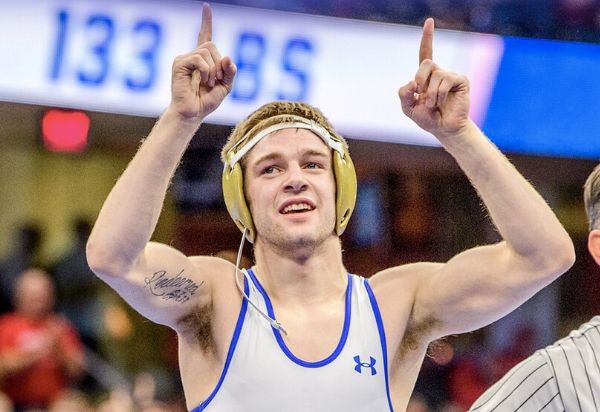 This story was written by Justin Basch for Pure Flix Insider.
Seth Gross was always destined for greatness. Even during his youth wrestling days, he aspired to be a pro-athlete and champion — a goal he accomplished when he became the 2018 NCAA Division 1 Wrestling Champion.
But the journey wasn't easy. From poor decisions to difficult barriers, the road to victory had some big bumps along the way.
READ ALSO: Student's Powerful Message to Football Fans 'Who Don't Believe' in God
The problems began when Gross found himself with too much time on his hands while "red-shirting" — when an athlete stays out of college competition for a year in order to develop skills and extend his or her period of playing eligibility — at the University of Iowa, currently the top-ranked wrestling program in the country.
Gross decided to experiment with alcohol for the first time one day, and after a crazy night of partying, he was arrested and kicked off the team.
Listen to Gross share his story of road bumps and redemption:
Just like that, his championship goal was suddenly out of sight.
Not knowing what to do next, Gross moved home to be around his family and friends.
The experience was challenging and convicting, as he wasn't one to typically get into trouble. He realized while he was home that he truly needed to forge a stronger relationship with God.
READ ALSO: John 3:16 Meaning: Understand This Transformative Bible Verse
So, he focused and started actively praying and seeking the Lord.
Around the same time, he took a job at Target selling phones to fill his time and make some money. It was there on his lunch break one day that his aunt came to visit him with a powerful message that would help transform his life and perspective.
She encouraged him with scripture, telling him not to throw in the towel or give up on his wrestling goals — and her message resonated.
It was a visit that changed everything for Gross, as he started seeking out colleges that might take him despite his recent blunders.
READ ALSO: 'I Wanted to Die': Woman's Overcomer Story Will Leave You in Tears
After taking a drive to South Dakota State University, Gross convinced NCAA Champion Chris Bono to let him enroll in classes and join the SDSU team.
To Gross' delight, Bono took him in under one condition: a one strike policy. If Gross was late even once to practice, he'd be kicked off the team. Suddenly, life was back on track.
Gross jumped back into the sport and hoped to place top eight at the NCAA tournament to become an All-American, an accomplishment few achieve.
But God, as He so often does, sent His denials for Gross' request for silver (All-American status) wrapped in gold, and Gross won the entire tournament, becoming the 2018 NCAA Champion at 133 lbs.
It's a stunning journey of faith and perseverance. Listen to the entire story on the BASCHAMANIA podcast.
Featured Photo Credit: Tony Rotundo, WrestlersAreWarriors.com