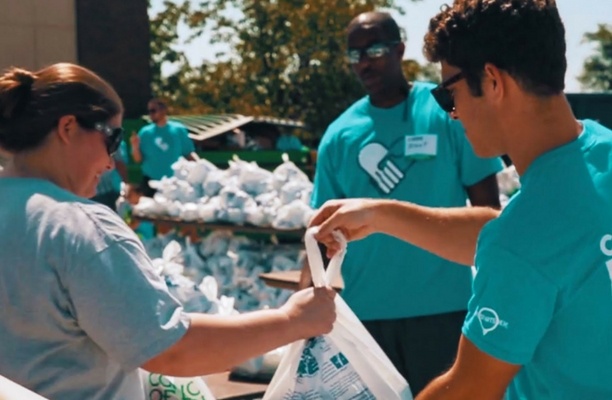 Imagine living in your car with no idea where your next meal is coming from. That's exactly the situation one family from Roswell, Ga. found itself in, with three teenage boys. "Mom and Dad's bedroom is the front seat, boys' bedroom is the back seat. And that was life for them," says Jeff Nene, national spokesperson for Convoy of Hope. A series of unfortunate circumstances left the family with no idea what to do next, so they wound up at a Convoy of Hope community outreach event.After receiving help finding a job, getting some new work clothes, and enjoying free haircuts, this family of five ended up in what Convoy of Hope calls their "connection tent." Nene explains:
We say, 'Hey, is there anything we can pray with you about before you leave?' And a good percentage will say, 'Yeah, I'd like to pray with someone.'
We've got circles of chairs inside this tent and...we direct them to an area where there are representatives from a church that's in their neighborhood.
So this family went and sat down in this circle and just started telling their story. It just so happened these people knew somebody that could find them an apartment, help them get it furnished. The whole day just came together for this family. They walked out, [the husband] had a job, they had a place to live, and hope...
While they were in that tent, the whole family rededicated their lives to Christ. By coming that day and feeling the love that was there, it enabled them to make that decision...
The next year, the community outreach comes around and they were one of the first families to volunteer to help.
Read Also: Want to Watch Pure Flix on Your TV? Here Are 4 Easy Options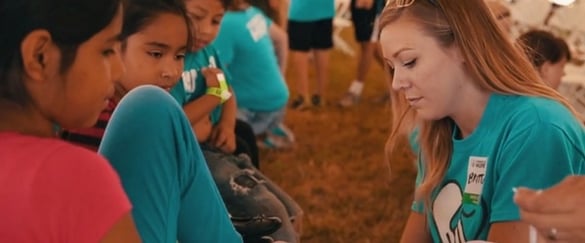 Live What You Believe
This story is just one of many examples of how Convoy of Hope's unique community outreach events create crucial opportunities for families in the U.S. to get help, and as a consequence, find hope. These events are certainly motivated by a strong desire to help communities thrive, but Nene explains that's not the only mission:
It's a chance to subtly share our faith. It shows people we live what we believe and we want to teach other people to do that as well.
You go into a community, and you [have to] earn the right to be heard. This is so far different from standing on a street corner and handing out tracts. This is going into a community and saying "We're here to help, and here's why we do it." And you get to tell them about your relationship with Christ, not necessarily what they need to do. It's that theme that runs the whole way through this community event, but it's never invasive or offensive...
I may be volunteering and putting shoes on a child when the mother asks me, 'Why are you doing this?'
It gives you a chance to tell them. And even if you never say a word the whole day, your smile speaks volumes to a person living with hurt. You can bring them a moment of hope.
1 Peter 3:15 (NIV) reads, "Always be prepared to give an answer to everyone who asks you to give the reason for the hope that you have. But do this with gentleness and respect." Convoy of Hope's approach suggests that the answer can be best given to others by sharing hope and being prepared to explain why.
PureFlix.com is partnering with Convoy of Hope this month to deliver more than $100,000 in resources to community outreach events just like the one in Roswell, Ga. Helping is easy: If you're a member of the PureFlix.com family, a portion of your membership helps families and starts changing the culture for Christ.