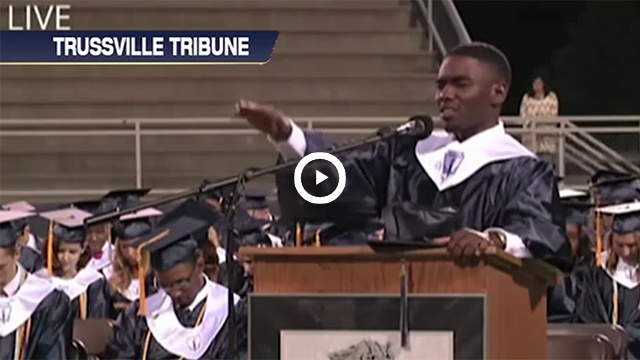 We have another incredible story about a graduation ceremony being centered around God. We earlier shared Denzel Washington's incredible commencement speech at Dillard University.
Now, we have the story of Christian Crawford, the senior class president at Clay-Chalkville High School in Alabama. During his school's graduation ceremony, people in the crowd starting calling out for the medics. As the medical workers began administering to a stricken audience member, Christian began ministering to everyone there by praying. And now, that prayer has gone viral.Crawford looked out at those in attendance and began: "Let's pray. We know that prayer is power and that God is able," Crawford continued. Then, Crawford thanked the Lord, and said, "We ask that whatever is going on that you will fix it. We know that you can make the way. … You are a God who is a healer, the fixer Jesus."
How about that for a prayer … in a public school setting?
His local newspaper, the Trussville Tribune, quoted Christian as saying:
"It only takes one person," said Crawford. "One person stands up and says 'okay, I'm going to stand for the word of God, regardless of what people say.' It's important that we stand on the word of God."
Watch Christian's prayer … and let's join this young man in being that one person that God can use, wherever we are.