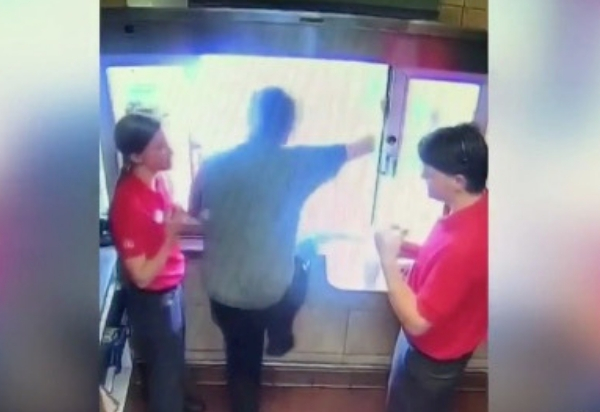 A teen Chick-fil-A worker in Flowery Branch, Georgia, gave a whole new meaning to heroism when he jumped out of a drive-thru window and saved the life of a 6-year-old boy who was choking.
Logan Simmons was working last Wednesday when a mother was reportedly outside of the restaurant begging for help. Her child had somehow became entangled in a seatbelt.
That's when Simmons, 19, jumped out of the window and ran toward the car, using a pocket knife to cut the child free. His quick thinking saved the little boy, WSB-TV reported.
LOOKING FOR HOPE? Watch Uplifting Movies and TV Shows Right Now on PureFlix.com
"I just jumped out the window and ran straight down to the car," he told the outlet. "I think it was the quickest option. It was right there and I saw the other car right there."
Chick-fil-A released the dramatic surveillance video that shows Simmons' brave move:
The act of kindness has been going viral in recent days, with the entire event — and the impact — leaving Simmons' pretty shocked.
He told CNN that his instincts merely kicked in, and that it's been nice to see the positive reaction to his heroic act.
One charity was so moved by the incident — and the fact that Simmons reportedly lost his dad at a young age — that a check was presented to help the teen pay for his first car — and a GoFundMe was also established.
You probably heard about Logan Simmons, the @ChickfilA employee who saved a child's life in the drive through.

What you haven't heard is that Logan lost his dad when he was 8 years old.

Logan is saving for a car, so we decided to provide him with a donation towards that car. ❤️ pic.twitter.com/Ed81dspgRY

— November Smiles (@NovSmiles) June 29, 2019
"I'm still kind of shocked right now myself that all this has happened," he told WSB-TV. "I do feel like a hero."
READ ALSO: He Nearly Took His Own Life, but God Changed Everything
Looking for more stories of hope? Sign up for PureFlix.com today. You can access thousands of inspirational and faith and family-friendly TV shows and movies for free during your one-month trial.